Add comment September 30th, 2007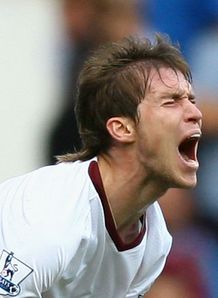 Our first win at Upton Park since the turn of the millenium was marred by a terrible challenge by Mark Noble on Aleksandr Hleb. Whilst the Belarussian's injury is not as bad as first feared, Arsene is less than pleased with the damage done:
"If it was an accident, it is a very bad accident, because if you see his leg it is unbelievable. It is red and bruised from the knee down to the toes."
In spite of Noble kicking Hleb out of the game, this young Arsenal side again showed their title credentials with another battling display. Whilst I don't condone his methods, Mathieu Flamini showed he was not going to be intimidated with a thundering challenge that took out Scott Parker. It seems the days of "bullying" Arsenal into defeat are over.
These are indeed new times. A year ago, I sincerely doubt we would've come away with three points. Whilst we were a little lucky with a couple of offside decisions (one denying Freddie Ljungberg what looked like a good goal against his former club), we always looked capable of stepping up a gear, and the fact that Robert Green was the Man of the Match tells its own story.
The goal, when it came, was unusual.  Some clever feet from Adebayor allowed him to play Hleb in on the byline, and his flighted cross was nodded from by Robin Van Persie (video).  About as "un-Arsenal" a goal as you could hope to find.  I don't know about you, but somehow I enjoy those more.  Perhaps it's the novelty.  When you have caviar every week, sometimes a pastie hits the spot.
The win means that we stay two points clear at the top of the table with a game in hand. Whilst Chelsea flounder, Manchester United continue to keep up the pace in spite of some uninspiring performances. We now have two home games against Sunderland and Bolton, from which we should expect to take six points ahead of a tricky double-header away to Liverpool and home to Man U. Our results in those two matches will give a truer indicator of just how strong our title challenge can be this season.
It's an exciting time to be an Arsenal fan. Enjoy it.