8 comments February 27th, 2006
As I speak, Arsenal Reserves are playing Tottingham Reserves at the Underhill, Barnet. The clash is always one of the highlights of the Reserve team season, and tonight the crowd was boosted by the news that Ashley Cole would be starting in order to continue his rehabilitation.
However, after 7 minutes, disaster struck. A lunge from a Tottenham player left Cole down, and he had to limp off the pitch clutching his right ankle. He's since been withdrawn from the game.
After the set-back for Gael Clichy, this is hardly what we needed. One does wonder how many more games Cole might play for Arsenal.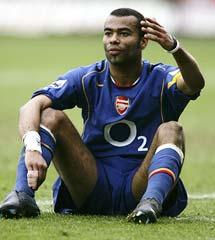 ps. Happy Birthday Arseblog