86 comments December 30th, 2010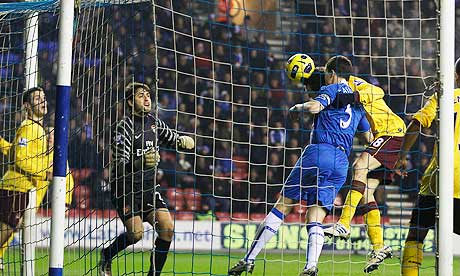 Wigan 2 -2 Arsenal (Watson (pen) 18, Arshavin 39, Bendtner 44, Squillaci (og) 81)
Match Report | Highlights | Arsene's reaction
Admittedly, the immediacy and lack of contemplation generally involved in posting to the internet can bring out the worst in people, but the reaction of Arsenal fans to last night's 2-2 draw of Wigan was nothing short of hysterical.
I'll give you an anonymous example from Twitter:
#Arsenal were a disgrace 2nite.  Ashamed to b a supporter.
In fact, do you know what it reminded me of? This:
Those most vehement in their fury at Arsene Wenger, Sebastien Squillaci, and Lee Probert will justify their words by saying they "care". Well, William Gallas cared. But that didn't stop 90% of Arsenal fans from calling him a big jessy.
We're all disappointed that Arsenal dropped points at Wigan. Instead of exorcising the ghosts of last season, we allowed ourselves to suffer another haunting. It is disappointing, but it's not a disaster. Beating Chelsea didn't suddenly make us a great team; drawing at Wigan doesn't suddenly make us awful.
The selection…
…is one of the more controversial issues. Arsene made eight changes from the team that beat Chelsea, and many fans are angry at what they see as a disruption in momentum. I understand that, but this is an exceptional circumstance. By next Wednesday we will have played four games in ten days. Two of those games are against fellow title challengers (Chelsea and City). Rotation is essential.
Arseblogger pointed me in the direction of this article last night, in which Steve Bruce talks about the perils of these Christmas fixtures:
"We've got five games in 13 days starting last week. That's ludicrous considering we've played 18 games in five months. People are playing tired and pull muscles."
We can't afford injuries to key players with so many big games on the horizon.
Some of the changes we made, however, were enforced. Cesc was suspended, and the idea of Johan Djourou and Robin van Persie playing twice in three days is ludicrous given their injury record.
Marouane Chamakh, Andrey Arshavin and Sebastien Squillaci may not have played against Chelsea but have spent most of the season as first-choice. Emmanuel Eboue, meanwhile, was a tactical choice intended to cope with the left-footed inverted right-winger, Charles N'Zogbia.
Every single player who came in to the side was an international footballer. Every single player in an Arsenal shirt was a more heralded, decorated player than his Wigan counterpart. The team Arsene put out was more than capable of beating Wigan. Indeed, it was a weaker team than last night's that beat Wigan 2-0 in the Carling Cup just one month ago.
With that said…
…there were some issues with personnel. As I've tried to explain above, most of the changes were justifiable, but leaving out Alex Song will always create problems because we have no direct replacement.
Arsene seems to see Denilson as a holding player, but he's not. He's a combative, hard-working, central midfielder. He doesn't have the positional intelligence or tactical discipline to play as an anchorman.
The same is true of Abou Diaby, though his credentials will always be something of an irrelevance if he continues to be dogged by injuries. From what I can gauge, his reintroduction to the squad was always something of an experiment, to see if he was able to play without pain. Clearly, he's not, and he was withdrawn after just 27 minutes.
By then, Wigan already had their first goal. When Charles N'Zogbia started the run that ended in the dubious award of a penalty, both Denilson and Diaby had charged forward to the edge of the Wigan box. At that point, playmaker Tomas Rosicky was actually our deepest midfielder.
We've complained about Song's wanderings this season, but against Chelsea he showed he is learning the value of balance. It's a lesson Diaby and Denilson have yet to master. Arsene has no-one with the tackling ability, physical strength, and willingness to carry out a strategic foul of Song. If he wants to rotate, he'll have to buy one in January.
My suspicion is that he won't. Why? A familiar reason: the desire not to impede a young talent. Emmanuel Frimpong is currently out injured with a ligament problem but is extremely well regarded, and is very much in the Song mould. Will Arsene bite the bullet and bring in a senior alternative? Time will tell, but I wouldn't get your hopes up.
Charles N'Zogbia..
…is an idiot. Arsenal and Newcastle had various discussions about the player's availability a few years back, but the deal always broke down over concerns about his temperament. Last night showed we were right to steer clear.
He undoubtedly has talent. At times last night he left Emmanuel Eboue for dead. But as if tumbling in to the box to earn a penalty wasn't bad enough, in the second half he followed up by head-butting Jack Wilshere. Never mind N'Zogbia – that's N'Forgivable.
There is, however, a caveat. As much as his diving infuriated me, we musn't forget that in the early part of the season we benefited regularly from the suddenly vanishing balance of Marouane Chamakh. These things, unfortunately, do tend to even themselves out.
The referee…
…is perhaps the real villain of the piece. Yes, N'Zogbia dived, but he did so outside the area. To award a spot-kick was a mistake entirely of the officials' own making.
He also missed a clear handball in the wall defending a late Samir Nasri free-kick. Sat at home watching, Cesc Fabregas was deeply unhappy – he'll remember conceding a penalty for a similar thing at home to Spurs.
The performance…
…wasn't great. At the back we were particularly disorganised, and it's no exaggeration to say that if it weren't for some last minute interventions they could have scored more.
A dismal first half was saved by five inspired minutes from Andrey Arshavin, who scissor-volleyed home the equaliser before driving at the defence and playing in Nicklas Bendtner for the second. He should probably have done better, however, with a second half opportunity created by Jack Wilshere. A third goal would surely have brought three points.
Set pieces…
…continue to be a huge problem, as evidenced by their equaliser. Arsene's quotes after the game were not particularly reassuring:
"It is (a concern) because nobody looks from the outside to take charge on the organisation side."
Yes, some teams have people like that. They're called a 'coach'.
The result….
…is, as I've already said, not a disaster. Winning at Birmingham and taking seven points from the nine available this week would be a good return. To do that, we'll need Djourou, Song, and a much better performance. Fortunately, there's no reason not to have all three.
We laugh at pundits when they declare us "in" or "out" of the title race after just one game. But when we react as hysterically as we did last night, we make it easy for them.
Get behind the team. Monday night showed that they want this and they understand what is required. Saturday will be a real test, and they'll need our support.
2010's been tricky at times. Let's make 2011 great.