75 comments October 28th, 2010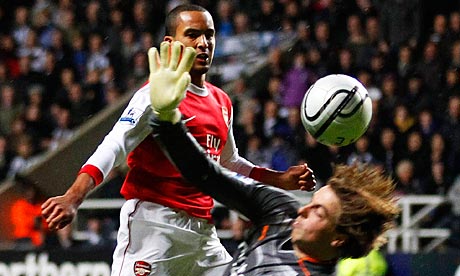 Newcastle 0 – 4 Arsenal (Krul og 45, Walcott 53, 88, Bendtner 83)
Highlights | Arsene's reaction
All in all…
This was an outstanding result with a team which saw nine changes from the weekend. The two players retained, Denilson and Djourou, are hardly star names. We used our squad intelligently and effectively, and there was still room for a few youngsters. To go to Spurs and score four, then repeat the feat at Newcastle, shows we mean business in this competition.
If I was Arsene Wenger…
It's a big 'if', admittedly. But if I was, I'd pull two-goal Theo Walcott aside, sit him down, and tell him, "Football should always be that easy for you". Last night, as he glided through to finish both chances without breaking sweat, I saw glimpses of the teenage Walcott that persuaded Arsenal to part with almost £12m for his services.
Walcott, like Nicolas Anelka and Thierry Henry before him, has extraordinary physical gifts which give him a massive advantage over those he shares a pitch with. Once he's away, there's no catching him. It ought to be easy to be composed when you know no-one is quick enough to get close to you. Judging by the evidence of the early part of this season, in which he already has six goals, he's finally starting to get to grips with that.
Last night was also proof that Theo doesn't have to start as the centre-forward to be a threat centrally. It's been noticeable this season that our front three have rotated throughout games, and Walcott's runs through the middle are actually more effective from wide positions as they're harder to track, a la Freddie Ljungberg.
Scszesny has the mentality of a top goalkeeper…
This was evident on two fronts: firstly in the remarkable way he recovered from his one mistake in the game, making a stunning say to deny an Alan Smith piledriver shortly after he had been rounded by Nile Ranger. Then, later in the game, he showed his fierce desire to keep a clean sheet, even at 4-0 up. His levels of confidence and motivation remind me of Jens Lehmann, and his reflexes are unquestionable. With his current deal due to expire at the end of the season, a new contract is an absolute priority.
Kieran Gibbs should take heart from Gael Clichy…
At a similar age, Clichy was similarly brittle, but has recovered to become a regular feature in the first-team.
Johan Djourou looks very rusty…
Admittedly, he did spend almost an entire season on the sidelines, but he seems to have lost something physically. He's getting regularly turned for both pace and strength, and his defending has a touch of the 'last-ditch' about it. The memory of Djourou as a calm, composed defender is fading fast. A couple of times yesterday he was bailed out by the excellent Koscielny, confirming that Djourou remains very much fourth choice.
Eboue's versatility is vital…
Whilst his antics can be infuriating, the ease with which he switched to left-back after Gibbs' injury demonstrated his value to the squad. In the 4-3-3 formation, he can play any position bar centre-back and centre-forward. And given the chance, he'd probably love a go up front.
Lansbury was unlucky…
Young Henry might feel hard done by not to get a minute of action, especially in place of Craig Eastmond, who is not the most exciting of the various young talents coming through.
You can't make a bigger statement of intent than involving Cesc…
I have to say that as I saw Cesc enter the field at the exact same moment as Joey Barton came on for Newcastle, I feared the worst. Those fears were almost realised when Barton picked up a yellow card late on for clattering the skipper. The risk, however, paid off. Cesc made a difference, creating the third goal for Nicklas Bendtner by chasing down a loose ball when we were already two goals to the good. He took this as seriously as anyone.
Tomas Rosicky put in a captain's performance…
In a midfield also featuring Eastmond and Denilson, a huge amount of creative responsibility fell to Rosicky, and he didn't shirk it. It is beginning to feel like his injury problems might, at last, be behind him.
Bendtner has learnt from watching Chamakh…
His work-rate yesterday was unusually high, and it reaped dividends. He also showed what he might have over the Moroccan: outstanding finishing with his feet. If you thought his curled goal against Man City was impressive, last night's whipped effort was even better. His versatility, too, is an advantage: he has played left and right wing for prolonged spells, and last night switched effortlessly in to both positions.
Bendtner's off-the-ball foul merely evened things up…
Yes, it was undoubtedly a foul, and a silly one at that: no-one was catching Theo. But Bendtner will have seen it as revenge. In the first half, Walcott went clear on the right, with Bendtner charging in to the middle in the hope of recreating their Nou Camp goal from last season. However, the Dane was cynically torn down off the ball and out of the ref's sight. Let's call it even.
The list of players ahead of Vela in the pecking order is:
Chamakh, Bendtner, Van Persie, Arshavin, Nasri, Walcott, Rosicky, and possibly even Emmanuel Eboue. Last night, he did nothing to alter that, and now he has the likes of Jay Emmanuel-Thomas breathing down his neck. Vela obviously has talent, but it's increasingly hard to see just how he fits in to the squad. His struggles ought to be taken in to consideration when weighing up the potential impact of another South American import, Wellington Silva, who arrives in January.
How nice that the hard luck stories belong to the opposition…
Manchester City complained of harsh red cards and coming up against an outstanding goalkeeping display. Newcastle will bemoan the misfortunate of an own goal and Bendtner's cynical forward play. I don't care: it's far better to be the unlikeable beneficiaries than the sympathetic losers. Long may it continue.