6 comments January 31st, 2011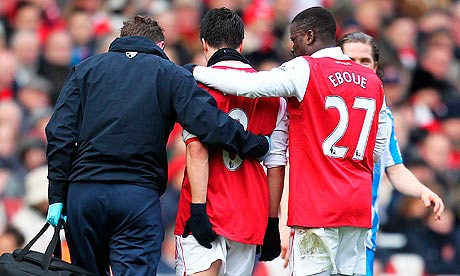 Arsenal 2 – 1 Huddersfield (Bendtner 21, Lee 66, Fabregas (pen) 86)
Highlights | Arsene's reaction
We ought to begin with crediting Huddersfield…
They were outstanding at the Emirates, and can rightly feel aggrieved to have lost.  There was a period in the second half when we were as under the cosh as we've looked this season, and when they equalised there appeared to be only one probable winner.  But then we introduced Cesc Fabregas – and the rest is (admittedly very recent) history.
There is a chasm emerging with the squad…
…between those that are first choice, and those that are not.  The eleven players who were picked to face Chelsea around a month ago have gone from strength-to-strength, boosted by the catalytic effect of that crucial victory.  However, their excellence means that when we do rotate, we suffer by comparison.  Yesterday the 'squad players' failed to impress yet again.
We look particularly weak in defence…
That won't be a surprise to anyone, but whilst our attacking options remains fairly interchangeable, it is imperative that our first choice back four stays fit.  Sebastien Squillaci's return ended in a red card, and he hardly put a foot right before that.
There are problems at full-back too.  Emmanuel Eboue may play to the crowd by giving his shirt and shorts away at the end of every appearance, but it doesn't hide his deficiencies – he isn't even close to challenging Sagna as first-choice.  Worryingly, I believe a suspension to Sagna means Eboue will start the first leg against Barca.  Brace yourselves, readers.
Kieran Gibbs, meanwhile, is in an awkward position – it's hard to see how he can develop without getting regular games, yet we're too reliant on him as back-up for Clichy to let him go out on loan.
Marouane Chamakh needs a goal…
In the first third of the season he was absolutely outstanding.  Now, he suddenly finds himself getting less game time than Nicklas Bendtner.  Being withdrawn at half-time to cover for Squillaci's sending off won't have helped his confidence – he needs to add to his tally of 10 for the season as soon as possible.
Nicklas Bendtner has the confidence every striker needs…
I understand some of the criticism of our Danish dumpling.  His first touch is occasionally heavier than the weight of expectation his own words emburden him with.  However, his confidence – arrogance even – is essential for a player in his position.
I spent some time last week with former Liverpool and Wales striker Ian Rush.  On the subject of goalscoring, he stressed the most important thing was never to let a miss bother you – you just move on to the next chance.  Michael Owen, he said, was such a great striker because he didn't give a you-know-what about missing chances.  He just got up, and waited for the next one.  And so it was for Bendtner yesterday: when Nasri found him with a beautifully clipped pass about six yards out, he completely missed the ball.  Within moments, he was celebrating.  Such is football.  Such is Bendtner.
It was nice to see Almunia back…
He might not play many games between now and the season, but it's good to have a senior member of the squad involved with the first-team once more.  It's important to remember that whilst you might doubt his capabilities as keeper, he is a well-liked and ultimately very loyal member of the squad.  Alienating him entirely would not be a smart move on Arsene's part.  What's more, he did make one outstanding save.
Cesc was just brilliant…
When Huddersfield got their equaliser, I looked at the ten men in red and white.  Every single one of their heads were down.  There was no communication, no rallying, no urgency.  Then Cesc came on, and the whole dynamic of the game changed.  Huddersfield were terrified of him, and rightly so – within moments he had provided Bendtner with a couple of opportunities to run at their defence with beautifully-placed through-balls.  The penalty was calmness personified.  The man (for he is no longer a boy) is a winner, through-and-through.
The goal was followed by a fitting tribute to a much loved Arsenal man, Pat Boyle…
After tucking the penalty away, Cesc grabbed the ball, said a silent prayer, kissed the corner flag and pointed to the sky in honour of a man who carried out his duties at Arsenal with humility and class, right until the end.  RIP to a true Gooner.
Losing Nasri is a huge blow, but…
…there's no point criticising Arsene for the decision to play him. It could have happened at any point, in any game. There is an onus now on Andrey Arshavin to step up and replace him. Fortunately, his performance yesterday had some signs of a return to form – including one hugely surprising last-ditch tackle inside our own penalty area.
Orient away is a fantastic draw…
A London derby at League One Orient's Brisbane Road (capacity: 9,271) should be a fantastic occasion and a thrilling cup-tie.  What's more, all things being even, we should win it.
I don't expect any transfer activity today…
Ryo Miyachi's loan move to Feyenoord could be confirmed, but other than that I expect it to be a quiet day on this side of North London – unlike on the other side, where Harry Redknapp appears to have found the cheat on Championship Manager and is throwing money around like a monkey playing monopoly.
I failed to mention the other day that Carlos Vela had joined West Brom – in slightly shady circumstances, mind.  Hopefully he's able to make an impact there and returns a better player.
Arsene says he's still interested in securing a centre-back on loan, but if he hasn't found one so far he's unlikely to suddenly discover one today.  As for Alex Chamberlain, who looked tidy enough against Manchester United at the weekend, I think that one might wait until the summer.
Of course, if anything DOES happen, you know where you'll hear about it: follow Gunnerblog on Twitter.