107 comments April 26th, 2011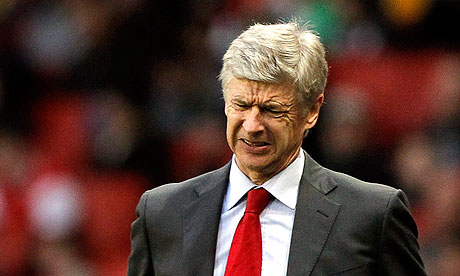 Thanks to my friend Goodplaya for this damning set of statistics:
2010-2011: With 11 games to go the title was in our hands. We've won once in seven and now the title is gone.
2009-2010: With seven games to go we were two points adrift. We won one of our next six and finished 11 behind Chelsea.
2007-2008: We were five points clear with 12 to play. We won one of our next eight.
Familiarity, it is said, breeds contempt, and this pattern of recurring capitulation has become horribly familiar. The question everyone is asking, and the one that has been rolling around my head since Sunday, is: why does this keep happening? The simple answer is that it is allowed to. And it can't continue.
Arsene said the other day that we all knew the move to the new stadium would mean a lean period. He's not wrong. And in the early days of the Emirates, the fans were understanding enough. However, with the passage of time enough proverbial water has evaporated from our glass to leave it appearing half-empty rather than half-full. What once could be called "transition" now feels like systematic failure.
There have been enough excuses. We've been too young, too poor, and too injured for too long. Now we have to be held responsible for our relative failure. That hasn't happened for a long time.
The players have been getting away with it for a good while now. Their youth and inexperience has acted as a buffer, protecting them from criticism from fans, manager and pundits alike. But as Arseblogger points out, our wage bill is as high as that of Chelsea and United. Our players have been equally well rewarded as theirs for inferior achievements. Whatever the result on a Saturday (or, in this case, Sunday), these players still pick up the same massive pay-cheque – one which they'd be unlikely to get at any other club.
For some sportsmen, of course, that's not enough. Some players have that inherent desire to be the best, which goes above and beyond the terms of any contract and drives them to sweat blood for the cause. For a long time, we've been waiting for our players to show that kind of desire. The accepted wisdom was that it could be learnt. We've long believed that all we needed was that first trophy. That, like a shark scenting blood, our hunger for success would suddenly become insatiable.
That was a naive belief. I'm arriving at the conclusion that the kind of mentality inherent in men like messrs Adams, Vieira, Keane Ferguson cannot be "learnt". Not at Arsenal, anyway. People talk about "born winners". That's a misleading phrase. They're not born, they're made – usually in adolescence. And almost always in hardship.
The modern day Arsenal Football Club is not a breeding ground for winners. The plush surroundings, fat wage packets and middle-class ethics don't turn shy wallflowers in to bellowing warriors.
And to cap it all, there are no senior figures from which to learn that behaviour. Jens Lehmann is a fleeting and solitary example. What I would give to have had a Sol Campbell or Patrick Vieira in the dressing room for this critical period. So many senior players have been dispensed with that the Arsenal creche have no role models; no-one to pass down the traditions necessary to bring success. We don't have any naturally-formed winners, and have lost those players who could've cultivated a culture of success in our youthful squad.
And yet this crop of players is allowed to continue, with contract extensions and wage rises being handed out along the way.
The man responsible for that is Arsene Wenger. Unfortunately, he too is part of the culture of permitted failure that enshrouds the club. Arsene is unsackable. That is justifiable. But it doesn't make it right.
The pressure on Arsene to succeed comes from himself, and is considerable. But I know myself that being self-employed is exhausting and difficult. Arsene and the club would be better served by being answerable to someone; anyone. Stability is a great thing. Stagnation isn't.
Unfortunately, those who have the authority to make demands of Arsene have thus far had little need to act. As far as the board are concerned, Arsenal are in great shape: continually qualifying for the Champions League and raking in revenue thanks to their massive spaceship of a stadium. This summer they'll put up season ticket prices by 6% or so, and they'll still fill all of those seats.
From a business perspective, Arsenal are in great shape. Both the board and the economist in Arsene should be proud. But sport isn't about economics. It's about winning.
I know Arsenal aren't in the worst shape. To be in the top three sides in the country, and probably the top ten sides in Europe, is something most football fans can only dream of. But sport – all sport – is about trying to get to number one. A team that spends a decade as number two won't be remembered in the history books, other than with regretful sighs about the paucity of their ambition.
Things need to change. Players, manager, and board need to become accountable.
For players, that means being shipped out when they fail to perform, rather than rewarded. We need to get tougher in our negotiations, and make sure that contracts are dependent on winning rather than loyalty. And if they don't perform, get shot of them. Some of them have had enough chances. I accept it might be hard to move players on when they're on such high wages, but maybe, as with Eduardo, that means we have to take a hit on the fee. Call it a 'loss leader'.
The manager has to be held up as responsible for what happens on the pitch. He needs a clear set of targets, and chief among those must be the accumulation of trophies. And, hard though it is to say it, there need to be consequences if he fails. We love Arsene, but we're in the business of results, not nostalgia.
As for the board, they and the new owner could soon find the situation reaching a critical point. I can't remember a time when the mood around the club was so negative. If attendances and ticket renewals start to drop off, their hand will be forced.
If they want to avoid that eventuality, they need to start acting now. Stan Kroenke is reportedly a smart man. If he is, he'll seek to arrest the culture of comfort and complacency that is handicapping our club.
This is not a creche. This is not a middle-class country club where players can pursue the art of tippy-tappy-tastic ballet. This is Arsenal Football Club. The period of transition needs to be closed. We have a proud history, littered with trophies. We deserve a future to match.