51 comments January 6th, 2009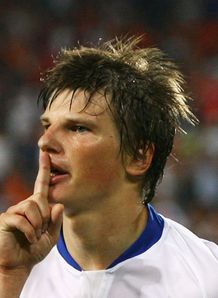 Zenit St Petersburg have told Sky Sports News that talks are taking place between the two clubs over the transfer of playmaker Andrei Arshavin.
The Russian Press (via Arsenal Analysis) are reporting that Arsenal have opened the bidding at £12m, with Zenit holding out for £20m.  I'm sure Arsene wouldn't authorise a fee quite that high, but if a middle ground could be reached in the region of £15m then a deal will surely be done – it's simply a case of showing Zenit the money.
Zenit are reportedly confident of agreeing a deal within the next couple of weeks.  A key factor in any transfer could be the player's own desire to move – he has more than once declared his intention to leave the club in this window, inciting the fury of some of his countrymen.
More of this as and when we get it.
Elsewhere, the club have confirmed that Jack Wilshere has signed his first professional contract with the club.
This "transfer window" business is beginning to get interesting…