1 comment November 14th, 2008
Today brings the news that Mikael Silvestre has re-joined Sagna, Gallas and Clichy in the French squad, with Raymond Domenech pledging to play the quartet "so nobody will criticise us".  Whilst I'm not sure that the four men represent the solid unit Domenech envisages, there is an obvious advantage to picking defenders who play alongside each other at club level.
I remember several England managers being implored by both press and public to pick the fabled 'Arsenal back four' to play in front of colleague David Seaman.  In spite of this, I couldn't help but think Arsene was going a bit far when he compared the selection dilemma he faces with Gallas, Silvestre and Kolo Toure to the one he had a decade ago when choosing between Steve Bould, Tony Adams, and Martin Keown.  I'm not sure any one of those francophonic defenders compares in class and consistency to the latter trio of goal-guarding giants.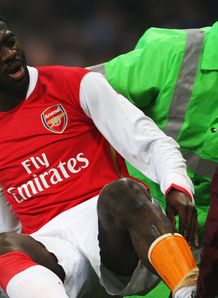 At the moment, Toure is the man missing out.  After being a vital cog in the side over the past five years, this is the first-time he could be described as anything less than first-choice.  Unsurprisingly, the Ivorian remains as upbeat as ever:
"I have not been in this situation before really, but the team are doing well.  It's difficult for me to not play but I hope to come back, and I will work hard to get my place back in the team.  At Arsenal there has always been big competition … I was in the team for a long time … but things can change and that's part of football."
Silvestre has done well, but I don't think his selection has much to do with him being a 'better' footballer than Kolo.  Arsene constantly emphasises the advantage of Silvestre being left-footed, but I think it's far more to do with the fact that he is a more natural ball-winner than either Kolo or Gallas.  Gallas' position as captain, meanwhile, makes him essentially undroppable.  It was inevitable that Kolo would take the fall.
In recent weeks we have seen Toure employed at right-back, but it's not where he sees his long-term future:
"Right-back is a good position but to play there for a long time would be difficult for me, because I think maybe my body shape is not the right one.  Those ones that play at the side, they are really skinny and can run and run and run!  But I'm part of the team, and the manager can do what he wants."
Furthermore, Toure himself finally moved to debunk the myth that he is a central midfielder in waiting – and his frustration at his classification as a centre-back being questioned is evident:
"Not at all – I have spent seven years at this club, playing at centre-back for five… We've been to the Champions League final, we've been unbeaten… How can I show more?  I know this position really, really well and I have proven it already.  I'm only 27 at the moment, and I think I can improve in this position.  I don't need to change my position, I just need to work hard and improve my game … I can still improve, but I think centre-back is really the position for me."
I agree with Kolo, and whilst he has been off-form, it's worth remembering just how good he has been in the past.  At one stage he was as good as anything in the Premier League, and I think he has only been exposed in recent months because of the absence of a suitable partner.  Toure is a quick, reactive defender with excellent ball skills.  He is at his best alongside a colossal stopper in the Sol Campbell mould: just look what Toure achieved alongside the hardly world-beating Senderos.  The absence of a similar player is no fault of Toure's, and yet he is carrying the can.  It is hard not to feel for one of our most loyal players.
Nevertheless, Toure's time will come again.  With Gallas the wrong side of thirty and possibly sanity, I suspect that this period will go on to be recognised as a minor funk in the number five's glorious Arsenal career.
Chin up, Kolo.  We love you.
Villa preview tomorrow.