Add comment September 19th, 2013
Kieran Gibbs was a decisive figure at both ends of the field…
Shortly after clearing a miscued Per Mertesacker clearance off the line, Gibbs bounded up the other end of the field to supply the telling cross for Theo Walcott to fire home.
Those few minutes encapsulate a finely-balanced match. Mertesacker's mistake could so easily have seen Marseille grab the opener, and as Arsene Wenger shrewdly observed in his post-match conference, the first goal is so often crucial in these ties. As it was, Gibbs bailed us out, and it a similarly misjudged header from Marseille full-back Jeremy Morel tipped the balance of power our way.
Gibbs has had a terrific start to the 2013/14 campaign, firmly establishing himself as first-choice left-back ahead of Nacho Monreal. It's a shame for Gibbs that international recognition remains unlikely – Roy Hodgson seems understandably taken with Ashley Cole and Leighton Baines. However, as an Arsenal fan first and foremost I'm delighted that Gibbs' brittle body is not being exposed to the rigours of the international schedule.
Theo Walcott…
…has taken an undue amount of stick this season for both Arsenal and England. Although this was his first goal of the season, he has consistently been one of our most dangerous players. And it's not as if Walcott has been missing open goals. Had Wojciech Szczesny pulled off the saves Kieran Westwood did to deny Walcott at Sunderland we'd be hailing the shot-stopping of our Polish 'keeper rather than laying in to the opposition forward.
That said, Szczesny is doing pretty well himself…
After an inauspicious start, Wojciech Szczesny has had a very solid start to the season. Were it not for some sloppily conceded penalties, the big Pole would have a couple more clean sheets to his name too. Perhaps the presence of two experienced back-ups in Fabianski and Viviano is helping focus his occasionally wandering mind.
Jack Wilshere outshone Ozil on the night…
It was good to see the young Englishman take the game to Marseille, cutting in from his left-wing position to drive at central defenders and try to make things happen. I know Wilshere himself prefers to play deeper, picking up the ball from the defenders and scooting through the midfield, but I like seeing his acceleration and artistry applied in the final third.
It's not really a 4-3-3…
Arsenal conventionally line-up in a 4-3-3 or 4-2-3-1. Right now, things are a little different. With Wilshere drifting infield from his wide starting position, and Theo Walcott playing almost as advanced as Olivier Giroud, Arsenal have adopted a South American style "magic square" in midfield.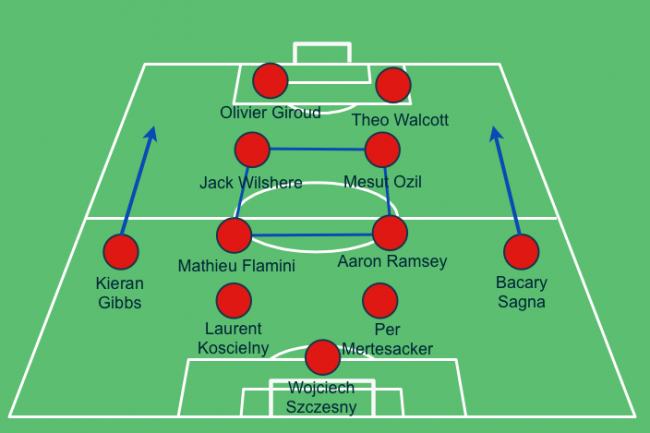 It's something we saw a bit of last season, with the likes of Aaron Ramsey or Santi Cazorla stationed on one flank, with an advanced forward like Walcott or Lukas Podolski on the other.
You can read more about our new tactical system in my latest column for Bleacher Report, here.
Fatigue is the greatest threat against Stoke…
We don't currently have a squad capable of withstanding rotation, so Arsene will almost certainly have to call upon the same set of players for Sunday's game at Stoke.
If the players can muster some energy, we should have more than enough to dispatch Mark Hughes' side. The supposed evolution of Stoke's game from Stone Age to Bronze Age  should play straight in to our hands.
It will be Mesut Ozil's home debut, and the Emirates should be rocking. I can't wait.