Add comment December 19th, 2009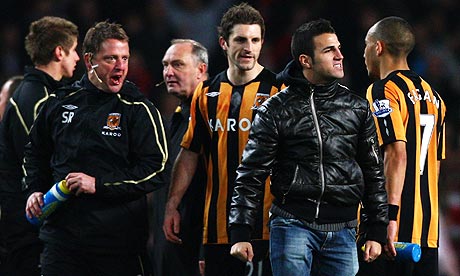 Phil Brown's a-coming. After his behaviour in our meetings with Hull last season, he and his assistant Brian Horton need to meet quite the reception this afternoon.
There are lots of decent men in football.  Phil Brown isn't one of them.  He's an insufferably arrogant man.  The sooner he is ought of the Premier League the better.  Let's give him an unhelpful hand towards the relegation zone.
Much as I would take pleasure from that, it's worth remembering that after only drawing at Burnley we're badly in need of three points ourselves.
Cesc and Traore both have a chance of being fit to face Aston Villa, but will miss today.  Denilson, however, is available and could join Diaby and Song in central midfield.  However, I'd be tempted to put one of Nasri or Ramsey in the middle to add a touch more creativity.
In transfer news, Jack Wilshere could join Burnley on loan, whilst Arsene says he will only buy if he finds a player of sufficient quality.  It's even trickier than that: they have to be of the sufficient quality, the right price, and ideally not be cup-tied.
Speaking of cups, the Champions League draw saw us up against familiar foe Porto, which looks a very reasonable tie, especially compared to the challenges faced by the other English sides.
Winning today is vital.  Come On You Reds.