35 comments September 28th, 2009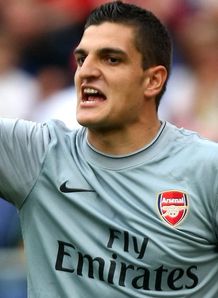 Fulham 0 – 1 Arsenal (Van Persie 52)
Highlights here; Arsene's reaction here
Every dog has his day.
I am not a fan of Chesney Hawkes.  And yet the song referenced in today's appalling headline ("The One And Only", for those of you with the good sense to have side-stepped my punning antics), is undoubtedly a work of genius.
Anyone who reads this site regularly will know I have often been critical of Vito Mannone.  More frequently, certainly, than I have expressed my distate for the aforementioned Chesney.  And yet, on Saturday, the Italian rookie produced a performance so spectacular that without it we would have been lucky to escape Craven Cottage with a single point, let alone three.
On several occasions, the third-choice goalkeeper showed oustanding reflexes to deny Fulham's attack, including one astonishing double-stop in the first half and a close-range block to foil a goalbound header from Bobby Zamora.
Remarkable though Mannone's display was, Fulham will still have trudged off the pitch sensing a missed opportunity to upset one of the Big Four.  After the game Roy Hodgson said Fulham were unfortunate to face a goalkeeper in such good form – I'd also suggest that their strikers were guilty of giving the Mannone the slightest chance of making a save when he ought to have been dead and buried.
Man of the match Mannone, who will be installed as Top Gunn as soon as I can be bothered to crop an image, said of his performance:
"That's the best game I have ever played. When I have played in the past it wasn't so important. In the first-team you have to show what you can do and I think I did that. My favourite was the double save in the first half when I went to my right. It gave me a lot of confidence."
Mannone wasn't our only hero: Bacary Sagna and William Gallas both produced two fantastic blocks.  And what of our goal?  A beautiful clipped pass by Cesc Fabregas, two exquisite touches by Robin van Persie, and the ball was back in the net – a perfectly placed right-foot shot finding the bottom corner.
The fact that we've spent so long talking about Mannone probably tells you that going forward we weren't up to much.  Despite the return of Andrey Arshavin, we didn't click into gear and only created a handful of chances, the best of which the Russian shinned over the bar after an awkward bounce.
Still, three points is three points (is three points).  As many others have said, this is the sort of victory that would see United or Chelsea lauded as a team who know how to win ugly.  The latter's defeat at Wigan shows that there are many twists and turns to come in this season.  We're right in the mix.
To see Ivan Gazidis talk through the Financial Results, click here.  As far as I can tell, it's good news, but these things are always somewhat shrouded in spin.
Olympiakos tomorrow.  The games are coming thick and fast at the moment.