It's that time again, when I metaphorically hand out fictional awards to players who will never actually receive them or know they've won.
Let's get straight on with it.
—
PLAYER OF THE SEASON
Last year Arsenal hand a stand-out winner: footballer of the year Robin van Persie. In the wake of Van Persie's departure, Arsene Wenger made it plain that responsibility would have to be shared more equally throughout the team.
Nevertheless, one man rose above the rest. It's a good job he rose, because he's so small that frankly you'd have difficulty spotting him otherwise.
Santi Cazorla has had an outstanding first season in English football. I'd second Arsene Wenger's sentiments in wondering aloud just how he wasn't voted in to the PFA Team of the Year. Few players in English football have demonstrated Cazorla's combination of style and stoicism; technique and tenacity. Cazorla is that rare thing: a flair player with real guts. His numbers aren't bad either: in the Premier League alone, he managed 12 goals and 12 assists.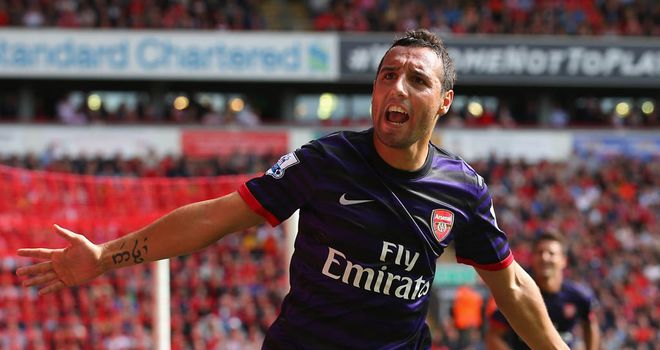 The first thing that struck me about Cazorla in pre-season was his remarkable two-footedness. He is genuinely ambidextrous, able to torment defenders by shifting on to either his left or right foot with equal ease. That two-footedness is a hallmark of the astonishing degree of technical excellence which Cazorla brings to all aspects of his game (with the disappointing and typically-Arsenal exception of set-piece delivery).
At the start of the season, Arsene understandably sought to build the team around the diminutive Spaniard, fielding him in a central playmaking role. As the campaign wore on, pragmatism took hold, and Cazorla was confined to the left wing. It is testament to his intelligence and versatility that his influence has not waned.
No player has had a more consistent presence in the first team: Cazorla has started 47 games this season. That underlines his important to the side. We simply wouldn't know what to do without him.
Cazorla was the obvious candidate for me, although I'd also like to give a quick mention to two other players. Firstly, Per Mertesacker deserves credit for a hugely consistent year. Many expected him to fall behind Laurent Koscielny and Thomas Vermaelen in the battle for places at centre-back, but instead he emerged as the lynch-pin of our defence. I can't help but feel Steve Bould sees something of himself in the lanky German.
Theo Walcott also warrants praise for his best season to date. In just 31 starts he amassed 22 goals and 15 assists. Our collective frustration with Walcott would be better exercised elsewhere: when we needed him, he invariably produced the goods, and his decision to stay with the club was undoubtedly one of the high-points of the season.
YOUNG PLAYER OF THE SEASON
Once upon a time the Arsenal team was full of striplings, and this category was hotly contested. Previous winners include the likes of Cesc Fabregas, Alex Song and Jack Wilshere. However those kids have either graduated, grown up, or been injured a lot.
The Arsenal team these days has a more grizzled look to it. The likes of Mertesacker, Sagna, Arteta and Cazorla raise the age profile of the side considerably, and even our Carling Cup side this term had an unusual degree of experience.
Of the remaining Arsenal tyros, there were high hopes for Alex Oxlade-Chamberlain, but he struggled to meet the unfair levels of expectation. Carl Jenkinson had an excellent start to the season that saw him earn an England call-up and a new contract, and he'll hope to challenge for a first-team spot on a more consistent basis next season.
I toyed with the idea of giving it to Kieran Gibbs, but decided that at 23 he was probably too old. I hate seeing the PFA dish out Young Player awards to the likes of James Milner when he's well in to his mid-twenties.
However, at the start of this season, Aaron Ramsey was just 21. He was also something of a lightening-conductor for the Arsenal fans' frustrations. If not every misplaced pass was met with a boo, they were certainly met with a collective tut of disapproval. By the end of the season, however, he had emerged as one of the team's most important components.
Ramsey's season mirrors Arsenal's own. In the first half he looked out of sorts. He was trying things he didn't necessarily have the skill or the confidence to pull off. In the second half, pragmatism took hold. Ramsey, like Arsenal, kept it simple and reaped the benefits. Alongside the efficiency of Arteta, Ramsey's energy and effervescence has proved invaluable.
WORST PLAYER OF THE SEASON
There are some players who disappointed this season. Bacary Sagna fell below his previously immaculate standards, and Thomas Vermaelen's performances lacked the discipline you'd expect of an Arsenal captain and centre-half.
Then there are some players whose contribution was plain poor. Our record signing Andrey Arshavin failed to make a single Premier League start, and even when called upon rarely looked like a player itching for 90 minutes of action.
Then there is Andre Santos. When it comes to this award, it's impossible to see past the Brazilian – and that's not just because of his expanding waistline. I actually think the stick he received for his half-time strip session with a certain Dutchman was way overblown, but it remains impossible to defend some of his performances on the field. Although his loan spell with Gremio is about to come to an end, it seems Santos' Arsenal career reached its own conclusion the moment we signed Nacho Monreal.
GAME OF THE SEASON
There was a period before Christmas when Arsenal played with all the self-destructive madness of a radicalised lemming. The consequence was a series of unbelievable matches. The 7-3 with Newcastle is noteworthy not only for the unusual scoreline but also Theo Walcott's breathtaking hat-trick.
Beating Tottenham 5-2 is hard to surpass, although seeing as it's becoming an annual thing there's no need to lavish it with another award. Like that swotty child in school, it can't win the Maths prize every year.
I'm going to opt for Reading 5-7 Arsenal: The game that nearly broke me. This match had everything – even a Marouane Chamakh goal. Arsenal came from four goals down to win in some style. As I wrote at the time:
The first half was abject, then apocalyptic, then embarrassing. The second half was acceptable, then alluring, then astounding. Extra-time was just plain bonkers.
WORST GAME OF THE SEASON
This season managed to provide far too many contenders for this category for my liking.
The home defeat to Swansea was probably as volatile an atmosphere as the Emirates has ever experienced. I remember leaving the ground that day wondering if Arsene would be forced to resign. The players were apathetic and the crowd were apoplectic.
However, the cup defeats to lower league opposition take the biscuit. Blackburn was bad; Bradford was worse. To lose to a team in League Two, with effectively our best team on the field, was humiliating. The fact that defeat also robbed us of a fantastic chance to win a trophy merely rubbed salt in to the not inconsiderable wound.
Also, this:
HIGHLIGHT OF THE SEASON
I was so stuck for what to write in this bit that I opened it up to Twitter. As ever, there were some cracking suggestions: Per Mertesacker's thumping header against Spurs; Tottenham fans celebrating an imaginary goal on the final day; Jack Wilshere's long-awaited return.
In the end, I've simply had to plump for the end.
This was not a vintage season for our club. I'd be lying if I said I wasn't glad to see the back of it. We celebrated on the final day, but it was more an escape than an achievement. Fourth place is often compared to a trophy, but for a club of our stature it's more comparable to surviving a relegation scrap. We felt relief rather than joy.
DISAPPOINTMENT OF THE SEASON
There were so many – and sadly, so many that are now horribly familiar. Our utter failure to contest the major trophies is something that is becoming soul-crushingly customary.
For the sake of variety, I've decided to opt for an unusual choice: the plight of Abou Diaby.
When scrolling through our statistics to make my choice for Player of the Season, I was genuinely jolted by seeing Diaby's name: I had forgotten he played for us. That rapid decline is all the more remarkable when you consider that at the start of the season he was turning in man of the match performances against the likes of Manchester City.
Sadly, since then he has succumbed to another major injury.  I'm not sure how many more there will be in his career.
Arsene Wenger has shown enormous faith in Diaby throughout his struggles, and Diaby himself has shown tremendous courage to fight back from a succession of blows. However, after this latest blow I can't help but feel that Arsene's faith and Diaby's courage will be wearing as thin as the cartilage in the Frenchman's knackered ankle.
–
So there you have it. Tomorrow I'll be taking a look at the season as a whole through the prism of the blog. Till then.