As the enthralling World Cup comes to a close and eyes begin to turn towards next season, I thought it'd be worth a bit of a retrospective of the saga that was 2013/14. And so, without further ado…
—-
Please, Arsene: Don't sign Luis Suarez | July 17th 2013
I cannot understand why a manager as ethical and principled as Arsene would go near a player like Suarez. I cannot fathom why our great club would seek to harbour a footballing fugitive. The situation is made all the more bizarre by the apparent availability of the talented and seemingly decent Gonzalo Higuain, who is now edging towards a move to Napoli.
It's genuinely baffling. Arsenal paying £40m for a player is something I hoped I'd see one day. However, the sight of Luis Suarez in an Arsenal shirt is something I still hope I'll never see.
Blowing that sum on a player who will be dogged by suspension and controversy is lunacy. What's more, Suarez has a proven track record of forcing transfers every couple of seasons. If he joins us, he'll view us merely as an escape raft until he can leverage a move to Real Madrid.
Opening Day Preview: New season – No new faces | August 17th 2013
A new season ought to feel fresh. It ought to be a new start. The manager ought to enter the new campaign free of the pressures of the last. However, Arsenal's disastrous summer has put Arsene Wenger under considerable strain before a ball has even been kicked in anger.
If Arsenal fail to beat Aston Villa today, the Emirates will resound with the boos from fans who will understandably feel they have been misled. They were promised statements of intent and a change in policy. Instead they've suffered more of the same penny-pinching and indecision.
Arsenal 1 – 3 Aston Villa: It was just a mirage | August 19th 2013
I had a vision of a better Arsenal. It was a vision sold to me by Ivan Gazidis, who promised me that after a decade of harsh desert we were approaching an oasis of plenty. It was a vision that sustained me through a summer starved of football.
It was a vision that I, somewhat foolishly, believed in. And it was just a mirage.
The dream evaporated and condensed in to the cold wet reality of a 3-1 home defeat to Aston Villa. Some dream. Some start.
Arsenal 2 – 0 Fenerbahce: Thoughts on Ramsey, Mata & more | August 28th 2013
Aaron Ramsey has been outstanding…
It's amazing what a difference confidence can make. The way he took his second goal was the mark of a player who has absolute faith in his ability at the moment. Having gone through a process of simplifying his game and bringing it back to basics, Ramsey is now supplementing his hard work with the flair he patently possesses. His progress is exciting.
The Real Madrid trio would all be incredible signings…
Arsenal are being linked with moves for Karim Benzema, Mesut Ozil and Angel Di Maria. All three would add a huge amount to the Arsenal squad, but only the latter seems remotely probable. Madrid seem unlikely to sell Benzema and Higuain in the same window, while Ozil is likely to also be a target for Manchester United. That is not a tug of war I'd fancy us to win.
Thoughts on the Derby & Deadline Day | September 2nd 2013
Ozil would be a game-changing signing. Assuming it goes ahead, it's massive. I would never have believed that we'd be capable of recruiting a marquee talent of this level.
However, while I hate to gripe on what is a undoubtedly momentous day for the club, I'm staggered that Arsenal are going to go in to the season with Olivier Giroud as the only senior centre-forward. Giroud was superb against Spurs, but by the end of the game was exhausted. It's a feeling he'll have to get used to in the coming months.
Mesut Ozil: A perfect signing in a far from perfect window | September 3rd 2013
There's no doubt it's a transformative signing, and the most significant since the arrival of Dennis Bergkamp in 1995. When it was announced half an hour before the window's close last night, Sky's Geraint Hughes noted that the Arsenal fans' jubilation was due to the fact they'd waited all day for a signing like this. The reporter were wrong: we've waited for more than a decade.
Just a few hundred yards separate Highbury and the Emirates, yet the Ozil deal feels like the completion of an arduous ten-year journey. However, it must be not only an ending, but also a new beginning. This has to be the start of something.
Thoughts on Sunderland 1-3 Arsenal: Ozil glides like Pires, passes like Bergkamp | September 17th 2013
Great players elevate those around them…
…and Mesut Ozil is undoubtedly a great player. Seeing him step out on to the pitch in an Arsenal shirt was both surreal and sublime. His touch was immaculate and his passing incisive. Considering he had barely trained with the team, his immediate rapport with the likes of Wilshere, Ramsey and Walcott was remarkable.
Arsenal 3-1 Stoke: A football match, believe it or not | September 22nd 2013
Confidence is an extraordinary thing. It can do incredible things to a footballer. Ramsey is at the crest of a wave, and I hope he can stay there as long as possible. When he inevitably reverts to somewhere approaching the mean, I still think we'll still have a very fine footballer on our hands.
Arsenal 4 – 1 Norwich: 700 words on THAT goal | October 21st 2013
The ball arrives on Wilshere's right foot, and he places a perfect volley in to the far corner. No power is needed. The finish, like the rest of the move, is all guile and grace. When he sees the ball hit the net, he allows himself a roar of exhalation.
He knows it's special. The Arsenal fans do too, reacting with an upwardly-inflected combination of awe and disbelief. And he keeps going, jogging towards the fans before sliding on his knees in celebration.
Wilshere finally rests. 20.34 seconds, five players, nine passes, and 28 touches have come together to create one masterpiece.
Crystal Palace 0 – 2 Arsenal: Gunners slip past greasy Chamakh | October 26th 2013
Caz-ozil is not yet working as anticipated…
Arsenal fans waited for six weeks to see Santi Cazorla and Mesut Ozil play together. Thus far, the combination has failed to live up to its understandably starry billing.
Arsenal needed a win today…
Our next four fixtures see us face off against Chelsea, Liverpool, Dortmund and Manchester United. This clash with Palace was all about getting three points – by any means.It's often said that winning while playing poorly is the mark of a title-challenging side. I'll hold off from such proclamations until we are able to assess Arsenal's performance in the difficult games ahead.
Arsenal face a crucial Champions League tie with Dortmund this week, but I'd gladly swap victory in Germany for three points at Old Trafford next Sunday.
The Premier League campaign feels all-encompassing and all-consuming. The irritation felt at dropping out of the League cup was banished by beating Liverpool.
Arsenal are currently five points clear. There is a growing sense that Arsenal can mount their first serious and sustained title challenge since 2007/08. Nothing – not even European progression – would excite me more.
Man United 1 – 0 Arsenal: Anticlimactic end to a good week | November 10th 2013
RVP is welcome to celebrate…
Do you want his respect? His pity? I know I don't.
There is no love lost between Robin and Arsenal. Why disguise it? Pretending otherwise is just silly.
United are an interesting case study for the theory that "strikers win games"…
It's my firm belief that Arsenal had the stronger XI going in to this match. Our midfield compares particularly favourably with United's.
However, the old adage goes that strikers win games, and so it proved. One moment of combination between Rooney and Van Persie was enough for United to secure the three points.
United's midfield was also weak last season, but Van Persie was able to bail them out time after time, and they ended up as champions. A world class goal-getter can mask many deficiencies.
As good as Olivier Giroud has been this season, I think we'd be getting ahead of ourselves to suggest he's in the same bracket as United's front two. However, that's not a fixed situation. As Wenger often says, you should never put limits on any player's potential. If Giroud continues to improve at his current rate, that hierarchy might soon change.
What's preposterous is that we have so little support for Giroud. Introducing Bendtner at Old Trafford, on the day he has made public his displeasure with Arsenal and Arsene, felt absurd.
Strikers win games. And we don't have enough.
Cardiff 0 – 3 Arsenal: We've Got Our Arsene Back | November 30th 2013
In stoppage time, with Arsenal winning this match by three goals to nil, the cameras caught Arsene Wenger bellowing at an Arsenal player. It  may have seemed unnecessary, but I interpreted it as a sign that his focus is greater than ever
Wenger has always been something of a perfectionist. This season, he has shown he is prepared to be a pragmatist too. His perfectionism is no longer confine to Arsenal's aesthetic dimension, but seems to encompass a broader appreciation of the games. Whereas once he was cavalier, he is increasingly practical. He seems to take pride in the team's defending once more. He'll have been just as satisfied by the clean sheet as the three exquisite goals.
Arsenal 1 – 1 Everton: You can't win them all, annoyingly | December 8th 2013
Mesut Ozil, the man for the big occasion, delivered…
If anyone looked likely to make the breakthrough for Arsenal it was Ozil. His last three performances have all been right out of the top drawer of football's tallest cabinet. When he smartly lifted the ball over Tim Howard and in to the roof of the net, it really felt like we might be watching a defining goal in the Premier League season.
The equaliser was gutting…

A buoyant stadium was silenced by a smashing strike from Gerard Deulofeu. Some have criticised Szczesny for failing to stop the shot, but it really was an excellent hit. It flashed past the Pole and evaporated our hopes of that seven-point lead. Gutting, but probably fair.
Man City 6-3 Arsenal: Old habits return as Arsenal die hard | December 14th 2013
Having been roundly trounced by City, it's tempting to wonder just how costly that Gerard Deulofeu goal last week might prove to be. Arsenal's cushion has disappeared and our seat at the top of the table suddenly feels a lot less comfortable.
The stark truth is that Arsenal have lost to each of Manchester United, City and Chelsea this season. Beating the likes of Spurs and Liverpool is one thing, but that titanic trio provide the real acid test. Arsenal will need to win their home games against their closest rivals if they are to stand a chance of lasting the pace.
Meeting Thierry | December 19th 2013
I was chatting away to Tim Stillman of Arseblog fame - two fish in unfamiliarly opulent waters. Suddenly, Tim's eyes lit up. Someone was approaching us – someone Tim recognised and, judging by his widening smile, somewhat liked. I felt a hand on my back. I turned around.
"Hi," he said. "I'm Thierry."
Arsenal 0 – 0 Chelsea: Stalemate sees Mourinho in his element | December 24th 2013
It's not so much that Wenger can't beat Mourinho — it's that Mourinho is expert at finding ways to stop him. Our boss invariably sends his team out play the same way, whereas Mourinho will select a team specifically designed to nullify the opposition. It's ugly, but it works. The stats back it up.
"If you can't win the match, don't lose" is becoming something a mantra for Wenger. It started as a reaction to the defeat to Swansea last season, and was reinforced after Robert Lewandowski's late winner for Dortmund a couple of months back.
There was a palpable fear of losing in similar circumstances tonight. The fans cried out for changes, but Wenger stuck with XI he started with, anxious that an unnecessary switch might upset the rhythm and, crucially , the defensive balance of his team.
In some ways it's commendable, and shows Wenger's growing pragmatism. However, at some stage Arsenal are going to have to gamble, and accept the risk of defeat. Too many draws could prove costly in such a tightly-contested league.
Not 1-1 at Newcastle (again) | 29th December 2013
Big points…
Apart from in the Emirates Cup, all wins are worth three points. Some, however, feel a bit special. Maybe it's because the win put us back on top, maybe it's because we were under the cosh for so long, or maybe it's just because it's Christmas, but these points feel significant. I'll dip in to my big bag of cliches to state that these are the sort of games that eventual champions win.
Per Mertesacker was a true giant…
I love seeing Mertesacker with the captain's armband. For me, he is the team's true leader, and he truly led by example at St. James' Park with a dominating defensive display.
His performance against Newcastle really cemented his transformation from giant mutant bambi to defensive rock.
2013 has been a pretty good year for Arsenal…
No side won more Premier League points than us. Unfortunately, titles are won between August and May rather than January and December, but it's a great testament to our consistency.
Arsenal 2 – 0 Cardiff: We have forgotten how to play without a target man | January 1st 2013
Arsene Wenger, the man who signed Mark Hateley for Monaco, has renewed his love affair with the powerful centre-forward. Emmanuel Adebayor, Marouane Chamakh and most recently Giroud have heralded a return to playing with a more traditional type of striker.
And now, Arsenal have become dependent on it. We've been blessed to have Giroud fit and firing for most of this season and last, but it's also made us strategically lazy.
The Arsenal team have been fed a steady diet of Olivier Giroud for 18 months, and it appears to have significantly altered their palette. Give them Luis Suarez, and they'd probably he aiming balls at his head and chest, wondering why he couldn't bring them down.
Giroud is not just integral to our attacking shape. He practically is the attacking shape.
Arsenal 2 – 0 Spurs: I Sher-Woodn't want to be a Tottenham fan | Jan 4th 2014
Theo Walcott looked impressive as a target man. His finishing was a little off, but he showed great movement and a willingness to take on the physical elements of the role. On the admittedly limited evidence of the past two games, he's a far better bet for the position than Lukas Podolski.
Arsenal must find a way to replace Theo Walcott's goals | Jan 5th 2014
I've tried to work out whose injury would hit the team harder. I've come up with a list of three: Wojciech Szczesny, Per Mertesacker, and Olivier Giroud. As important as players like Aaron Ramsey and Mesut Ozil might be, we have others capable of doing a similar job. Walcott offers something special: goals.
 The season might be over for Theo, but it's not for Arsenal. Arsene Wenger must act fast to ensure that the rupture of Walcott's ligament does not also precipitate the tearing up of Arsenal's title dreams.
Some thoughts on Coventry, Podolski and Draxler | January 25th 2014
Sorry to disappoint, but I don't see the Draxler deal happening in the January window. A lot of amateur body language experts have come out of the woodwork to analyse Arsene's various smirks and batting eyelashes, but I don't think there's anything in there to suggest we're on the verge of a swoop for the prodigiously-talented Draxler.
Arsenal 0 – 0 Man United: We've missed the party | February 13th
I had a more emotional reaction to this game than normal. The reason why is simple: I hate United. I loathe them. Their demise this season has made me cackle like the most perfectly played out slapstick comedy.
And I so wanted us to be in on it. I wanted us to join the party, along with West Brom, Newcastle, Sunderland, and all those other teams. When we went to Old Trafford, I had visions of a cathartic victory. I wanted us to batter them, get a bit drunk, piss on the corner flag, and dance disgracefully on the grave of Fergie's dugout. I thought we'd be the munchkins in Oz, the Ewoks on Endor, gleefully celebrating the destruction of a once feared nemesis.
The Emirates wasn't much different. We weren't dominated by United, but nor did we shed our insecurities. We had an opportunity to put them to the sword, but we looked more worried about dropping our shield. We're as scared of Fergie's ghost as David Moyes is.
A cup nine years in the winning. A party nine years in the making. A blog nine years in the writing. The wait is over. Arsenal have a trophy again. And it feels fantastic.
We didn't do it the easy way, of course. As soon as the match kicked off, Hull played with an fierce abandon that was in stark contrast to a nervy, brittle Arsenal. Even by our standards, conceding two goals within the opening eight minutes made for a bafflingly inept opening. The decision to start Lukasz Fabianski — one which I still consider sentimental rather than sensible — might have been looked upon rather less kindly had Arsenal not mustered a gripping fight-back. Fabianski was not individually culpable for the goals, but the defence looked unsettled by the absence of the regular No. 1.
It could have got even worse. A Kieran Gibbs clearance on the line prevented Arsenal from going three goals down. A deficit of that size might have proved insurmountable. That clearance will rank alongside Gibbs' last day, last-ditch tackle at West Brom as one of his finest contributions in an Arsenal shirt.
A goal before half-time was vital to transform the game from a capitulation to at least a contest. Fortunately, Santi Cazorla produced a stunning free-kick to find the top corner from fully 25 yards. As Cup Final goals go, this was special — a strike to rival the Ray Parlours of this world. Quite the honour.
However, crucial though Santi's strike was, the momentum didn't really swing in our favour until around the hour mark. Arsene Wenger withdrew Lukas Podolski and put on Yaya Sanogo. I must admit, I wasn't convinced by the switch at the time, but adding a second striker to supplement Olivier Giroud immediately increased our attacking threat. He's still more raw than steak tartar — a brute without the ball and Bambi with it. Nevertheless, his physical presence and fearlessness made him an effective sub. The manager has spoken about Sanogo's enormous reserves of determination and self-belief, and both were evident in this FA Cup Final. After switching to 4-4-2 in both the semi and final of this competition, one wonders if Wenger is toying with the idea of deploying that formation more regularly next season.
The identity of the two scorers who overturned Hull's lead should come as no real surprise.  Laurent Koscielny has a remarkable knack of scoring vital goals. In each of the past three seasons, he has notched in the games that have seen Arsenal secure fourth place. This weekend, he topped that by finding the net in an FA Cup Final.
And then came extra-time, and the winner. It was always going to be Aaron Ramsey. There should have been no doubt. This was always his season. Even an absence of four months couldn't prevent him from carving Arsenal's 2013/14 campaign in his own image. A clever backheel from Giroud, a well-timed run and a nonchalant flick of the right boot saw the bottom corner bulge. Arsenal fans screamed out a decade of frustration. The party had begun.
And what a party. I suppose it was inevitable that, after such a long wait, the club would celebrate in style. The scenes on the pitch were jubilant. Even Arsene Wenger took off his tie and embraced the gleeful atmosphere. Kieran Gibbs shed a couple of tears, Bacary Sagna was locked in prayer, and Sanogo appeared to have taken a particularly exotic collection of hallucinogenic drugs.
This party wasn't confined to North London either. What has come home in the aftermath of this game is quite how big Arsenal are. This victory united a family that stretches right across the globe. The parade in North London was rivaled by equally raucous scenes in supporters clubs in America, Asia and beyond. Last time we lifted a cup, Twitter didn't even exist. Now, the ecstasy is indulged and shared with fans flung to the world's four corners. We're all Gunners, and this weekend we were all winners.
It means so much to so many. To younger fans who probably don't remember the last time we touched silverware. To younger players, for whom this was a first major triumph. Gibbs' tears reflected the culmination of childhood dream.
I thought of Tomas Rosicky, who has waited so long for this moment, and Bacary Sagna, who has punctuated his Arsenal career with a shining silver exclamation mark that ensures his place of history.
And I thought of Arsene Wenger. My opinion on the manager's future has fluctuated somewhat this season. His stubbornness frequently drives me mad. However, what's never changed has been my desire to see him crowned a winner again. It's eminently possible to be frustrated by someone's obstinate ways, but love them dearly. I know I feel that way about most of my own family. Seeing him sing and dance on the podium gave me a warm, fuzzy feeling that I haven't experienced for some time. Nine years, probably.
Few could have anticipated quite how good it'd feel. The truth is, you forget. With each passing year, you console yourselves with familiar platitudes: "you can't win them all", "we're doing well given our resources", even the occasional "fourth is almost like a trophy". It's not. There's nothing like being able to call yourselves Champions of a major competition.
Arsenal is about a lot of things — I've already alluded to the amazing community that surrounds our club. However, a look at our story tells you it's also about glory. It's about history. It's about transitory moments of elation that create indelible memories.
That's what we achieved at Wembley, and it's what we ought to be constantly chasing. Sometimes, it's seemed like the board had forgotten what that felt like. Maybe the manager, too. Time — and a shifting of priorities — had dulled their memory of the euphoria victory can invoke. A good deal of the players simply didn't know any better: it wasn't a sensation they were familiar with — until now. Now they know what the prize feels like. They know what they're playing for. They know what it is to be winners.
You can only hope the've got the taste for it. I know I have.
We've waited nine years for this.
This week, I looked back at the blog I wrote after 2005's FA Cup win over Manchester United. That was the last time Arsenal touched silverware. Think about that: nine years. In the 125-year lifespan of the club, it's not a massive stretch. However, us fans are only here for threescore and ten. In the course of our own individual lives, it's a significant period.
Think of what you've done in the last nine years. Ponder what's changed since. 2005 was the year Youtube was launched. Lance Armstrong retired a champion, not a cheat. Twitter didn't even exist.
Today, Arsenal have a chance to end the wait. It's a good chance, too. Hull City are a decent team and will play unshackled by expectation, but we are the overwhelming favourites for a reason. Play as we can, and we ought to win.
The same, of course, was true in 2011. I was at Wembley to see Arsenal lose to Birmingham City in that fateful final. It set our on-pitch progress back by several years. Having clawed our way back to this point, we cannot afford to let a trophy slip through our fingers once again.
I haven't blogged much in the last few weeks of the season. That's partly because of the demands of other work. It's also because I've felt a bit underwhelmed by it. As Everton fell away, our games ceased to carry much weight. There was a certain 'end of term' vibe about the whole thing. Abou Diaby's cameo at Norwich felt like the football equivalent of when my history teacher used to let us watch Blackadder in the final lesson of the year.
Today, the stakes are cranked right up again. That's what sports about. Drama and tension; failure and glory. Arsenal need this. The club have spun a story about enduring a difficult period in order to facilitate future glory. We're supposedly at the turning point, where prudence begins to pay dividends. A trophy would be proof of concept.
I won't be there today. Other commitments will keep me from Wembley. But wherever you're watching the final, I hope the team give you a match and a day to savour.
I leave you with this film. I dare you to watch it without feeling sick with nerves and excitement. The players have a remarkable opportunity to write themselves in to folklore today. Who wants to be the next Charlie George, Alan Sunderland or Ray Parlour?
Don't make us wait another year.
Extra reading:
My interview with Wojciech Szczesny for Bleacher Report
I don't know about you, but I remembered reaching an FA Cup final as a good deal more fun.
Don't get me wrong: I'm delighted to be there — and being there is undoubtedly what matters — but the journey was as torturous as a coach ride with that Man City fan in the Barclays ad.
Let's focus on the positives: however shoddily, the job got done. A positive result in the final will vanquish any traumatic memories of the painful semi. In recent weeks, Arsenal have been criticised for a failure to grind out results on the big stage. Yesterday, they managed exactly that.
A penalty shootout is a test of technique. However, it's also a test of nerve. It was to my considerable surprise that Arsenal passed that particular test with flying colours. Settled by the confidence and competence of Lukasz Fabianski, our takers executed their kicks perfectly.
I was chuffed too for Per Mertesacker, who would have been hugely unfortunate to have been cast as the scapegoat in the event of an Arsenal defeat. A mistimed lunge led to the Wigan penalty, but he eradicated the error with the crucial equalising goal. It was a better finish than it looked: Mertesacker had to twist his body quickly to direct the header in to the near post.
Whatever you might hear or read elsewhere, our celebrations were justified. We've reached our first FA Cup Final in nine years, and have a fantastic chance to end a protracted wait for silverware. There was joy, and there was enormous relief. Stranded in the press box, I crumpled over my desk, exhausted. In the cup, results are everything. We had what we needed.
If all you're interested in is basking in the promise of a return to Wembley on May 17th, I understand entirely. It's probably best you stop reading now. I won't begrudge you: I'm about to take a sip from my editorial glass which will take it from just over half-full to a little under half-empty.
The uncomfortable truth is that I saw little yesterday to convince me that that the chasmic flaws in the side are anywhere closer to being fixed.
We were dreadful. The team looked devoid of imagination, robbed of courage and drained of energy. After 120 minutes, we were held 1-1 by a team from the division below. It was hardly encouraging. Reaching the FA Cup Final is undoubtedly a good achievement, but avoiding defeat to a Championship team is primarily a disaster averted.
The decision to start Yaya Sanogo looked questionable before kick-off. By half-time, it looked plain absurd. I felt sorry for a player who is clearly not ready to be playing for a club of our stature. Going by some of the furious gesticulating when Wenger chose to replace Podolski rather than Sanogo, some of his team-mates feel the same way.
By the time the game entered its last 20 minutes of normal time, I was physically shaking with the enormity of what was unfolding before me. Make no mistake: Arsene was within 10 minutes of being forced to leave Arsenal on a sombre note. What's more, he looked powerless to do much about it. It was grim viewing.
After the game, a journalist joked that I should ask Arsene what the plan was against Wigan. There's no point answering a question to which there is no discernible answer.
I'm delighted we've made it to the final, particularly because it ensures an opportunity for a glorious finish for a manager who has served this club with remarkable distinction. Arsene was asked after the game if the result of the final would have any bearing on his future. His response was curt and immediate: "No". Increasingly, I feel his mind is made up. Perhaps he, like me, thinks it could be time for a change — regardless of what happens when we return to Wembley.
There is a strange pressure about being FA Cup favourites…
It's an unpleasantly familiar sensation, much like the one we found ourselves in at this stage 2011's Carling Cup.
Surely, the lessons of that disastrous final have been learnt. We're more experienced, more determined and more professional. We ought to do it. There are no excuses.
I was pleased with the Bayern result and performance…

In my opinion, the tie was effectively dead after the first leg result. If I'm honest, I'd pretty much resigned it as soon as the initial draw was made. However, 1-1 at the Allianz Arena was a creditable result that allowed us to continue our campaign with the semblance of gathering momentum. Alex Oxlade-Chamberlain was absolutely superb: in the continued absence of Aaron Ramsey and Theo Walcott, he must be one of the first names on the team-sheet.
The penalty save felt significant…

Not only did it ensure we left without suffering a dispiriting defeat, but it also felt like the moment that Lukasz Fabianski guaranteed his place in the FA Cup semi-final side. In this form, his departure on a Bosman in the summer feels like a significant loss.
Spurs are on the ropes…

Their fans are as unsettled as they've been for some time. Speaking to Spurs supporters, it seems there's a sense that the club lack direction and purpose. They feel little to no affinity with the players, and are worried they're trapped in a purgatorial prison. A "negative spiral", you might say.
However, derby day is a real equaliser. We know only two well how quickly the trajectories of the two north London clubs can be reversed. Arsenal will need to ensure their focus is absolutely right if they're to come away with three points.
We need those points pretty badly. Although the increased probability of FA Cup success has made that the focus, we still have a good chance of winning the Premier League. It would take an extraordinary run, but then title wins usually do.
Arsenal 4-1 Everton
Match report | Highlights | Arsene's reaction
Arsene gambled with his team at either end of the pitch…
When it came to selecting his team, Arsene Wenger made two big calls at the extremities of the pitch. First off, he allowed Lukasz Fabianski to continue in his role as Arsenal's cup goalkeeper. At the opposite end, he selected Yaya Sanogo to start ahead of Olivier Giroud.
Given the result, Wenger will feel justified in his decisions. However, if Arsenal ultimately reach the FA Cup Final, I'll be screaming for Szczesny to start. There is little room for sentiment when there is silverware at stake.
The goal was an important moment for Mesut Ozil…
The fist pump he gave when the ball hit the net was as expressive a show of emotion as we've seen from Ozil since he arrived on these shores. The fact that every single outfield Arsenal player joined him in celebration seemed significant, too: this was a clear show of support for a player who has been under fire.
This was Ozil's first goal for three months, and his best performance in a while too. Afterwards, Wenger described him as "regenerated" after a recent rest.
He's certainly found the season hard going. I've heard that Arsene believes this is a particularly difficult year for Ozil to have moved to the Premier League. Six teams are battling for Champions League qualification. Another 10 face the possibility of relegation. Every time you face one of those teams, you're engaged in a high-intensity battle. At Madrid, Ozil simply didn't encounter that ferocious level of competition on such a regular basis.
It's been a steep learning curve. Hopefully this match represents something of a turning point.
Flamini's booking made life hard…
Mathieu Flamini was booked after 23 minutes. It's no coincidence that it was around that time that Everton began to pose a consistent threat on the counter-attack. His ability to break up the play was severely hampered. On Everton's equaliser, there was a clear moment of indecision where Flamini was reluctant to put in a tackle and face a red card.
Giroud is the best striker we have…
I must confess I find Arsene Wenger's faith in Yaya Sanogo somewhat baffling. He's big, strong and willing, but miles away from Olivier Giroud. I'm not even convinced that he's better than Nicklas Bendtner.
Giroud's two goals showed he's still the top man. He now has 18 in all competitions — one more than he managed in the entirety of last season. He's far from perfect, but he's also comfortably the best striker we have.
Two wins from glory…
I'm not a fan of hosting the FA Cup semi-finals at Wembley, but it ensures a good day out and a sense of occasion. If we can win there and book a place in the final it will ensure a dramatic end to what's been, on the whole, a positive season.
It was great to see some familiar faces at the Emirates…
Before the game, Theo Walcott was out on the pitch. It was encouraging to see him walking unaided – I'm told he's begun doing rehab on a zero-gravity treadmill. Disappointingly, this does not teach him how to fly, but instead allows him to run without putting significant weight on his joints.
Then, at half-time, Pat Rice came out to thank the fans for their support in his battle with cancer. Pat's a real fighter and a true Arsenal man, and it was genuinely heartwarming to see him looking so well.
All in all, a very good day.
Arsenal 4 – 0 Coventry
This was our biggest win of the season…
…although the scoreline was arguably somewhat flattering. After romping in to a two-goal lead, Arsenal took their foot off the gas and instead applied the dreaded handbrake. On a side note, it's vaguely amusing that a handbreak is something designed for security, but in Arsenal terminology has transmogrified in to something perilous.
Anyhow. Had Coventry's Leon Clarke been in better form, the underdogs may even have grabbed a couple of goals. As it was, they failed to take their opportunities, and tired late on.
That's what a midfield without Arteta & Flamini looks like…
Arsene fielded a very attack-minded central midfield of Jack Wilshere alongside Alex Oxlade-Chamberlain. Although both players impressed in possession, without the ball they struggled. In the second half, Coventry regularly isolated and outmanoeuvred our full-backs. The work that Arteta and particularly Flamini do in wide areas is often overlooked and utterly vital.
It's hard to argue with Podolski's numbers…
He now has more goals than starts in 2013/14. He's comfortably the best finisher in the Arsenal squad. In the light of his brace, it'll be fascinating to see whether or not he gets the nod to start against Southampton on Tuesday. He couldn't really have done much more to demonstrate his ability against Coventry. If he doesn't start, it suggests that nothing Podolski can produce on the pitch will alleviate Wenger's patent unwillingness to field him from the start.
We were more German than ever….
When Gedion Zelalem came on for his first-team debut, Arsenal had five Germans on the pitch. On the same night, Bayern Munich played in the Bundesliga. They ended their game with just four.
Further reading: Globe-trotting Gedion Zelalem looks at home at Arsenal – ESPN
However, I don't think Draxler is coming…
Sorry to disappoint, but I don't see this deal happening in the January window. A lot of amateur body language experts have come out of the woodwork to analyse Arsene's various smirks and batting eyelashes, but I don't think there's anything in there to suggest we're on the verge of a swoop for the prodigiously-talented Draxler.
I think the player would very much like to come. A lot of the noise this week seems to have emanated from his camp. However, the more certain Arsenal are of the player's commitment the less likely they are to play his steep release clause. Arsenal will do the deal when they can get it cheapest.
There's another reason for my doubts. Earlier in January, the club were actively considering a bid for a wide player. That search was accelerated when Theo Walcott was ruled out for the rest of the season. However, since then, agents who had previously being tasked with identifying potential recruits are now being fed the same "we have 17 wingers" line that Wenger trotted out in his post-Coventry press conference. That is the new company line – inspired, one might imagine, by the swift development of Serge Gnabry.
"Ah", you say, "but what if he sees Draxler as a striker?" Wenger may well have a long-term plan to develop Draxler in to a striker, but is the middle of a title challenge really the best time to embark upon that sort of experiment? As much as I'd like us to sign the player, I suspect not.
Of course, it's entirely possible that the reason Wenger has privately called off the hunt for a wide attacker is that he's already found the one he wants: Draxler. However, looking in to his eyes on Friday night, I didn't sense the same anticipatory glee I saw prior to the Ozil signing.
I think Arsene would still like to sign a striker, ideally on loan. Whether or not that will be possible in what's left of the window remains to be seen. It looks unlikely.
I'd like to be wrong. I'd love Wenger to go out and make a signing in this window. I have a horrible, nagging suspicion that if we don't, we may be left wondering "what if" come May. We're in a phenomenal position, and I can't fathom why we'd choose to leave anything to chance.
The FA Cup Draw…
I've come to accept that any home draw is essentially a good draw. We've been handed three in succession, so can't really complain. Manchester City facing off against Chelsea is also fantastic for our chances. The FA Cup certainly represents our most direct route to silverware this season. It's tantalising to imagine that we are just two wins from Wembley, and four wins from a trophy. Admittedly, the draw does leave us with a pretty daunting schedule over the next two months. However, as a United-supporting friend said to me in the light of the draw: "Better to be scared than bored".
Further reading: Why February Could Be Make or Break for Arsenal's Season – Bleacher Report
Arsenal 2 – 0 Tottenham
Match Report | Highlights | Arsene's reaction

I'll admit, I was worried about the XI Arsene picked…
Before the game, Arsene said he'd treat this just like an important league game. He was fibbing. Had this been a league game, Szczesny, Mertesacker and Ozil would all have started. Perhaps Olivier Giroud would even have been roused from his sickbed.
Instead, all four were absent from the starting XI, and two from the matchday squad entirely.
There were two areas that particularly troubled me. The first was at centre-back: the pairing of Laurent Koscielny and Thomas Vermaelen has never looked particularly secure. The first half showed that fielding these two talented but impetuous defenders does make us a little vulnerable in-behind – Vermaelen was twice turned when trying to nick the ball early. However, any anxiety was relatively short-lived: a cut knee forced Vermaelen off at half-time, with Mertesacker coming on to replace the Belgian.
My other concern was the goalkeeper. Although Lukasz Fabianski's recent performances have been relatively solid, I'd be lying if I said I'd entirely let go of my perception of him as something of a calamity waiting to happen – as my annotated team-sheet will show.
My fears were misplaced…

Arsenal were never really tested. Fabianski made one decent save to deny Christian Eriksen, but other than that Arsenal looked very secure. Emmanuel Adebayor, whose good form going in to the game was cause for dark premonitions, spent the match tucked firmly in Laurent Koscielny's back-pocket. Roberto Soldado, meanwhile, is truly the heir apparent to Helder Postiga in Tottenham's Hall of Infamy.
To be honest, Tottenham made it very easy for us.
I think Tim Sherwood's positive impact at Tottenham has been hugely overblown. He's only won three of his first six games. He drew at home with an out-of-sorts West Brom, and lost an important Capital One Cup tie at home to relegation-threatened West Ham.
I don't know if it's because he's a young English manager, but the praise he's received seems hugely disproportionate when compared to his actual tangible impact. The BBC have even chosen to conveniently overlook the West Ham game and call this the first defeat of his time at Tottenham:
I'm convinced that a Spurs side managed by AVB would have given us a better game today – in fact, they did just that, back in August.
Sherwood has been lauded for his revolutionary introduction of an old school 4-4-2 formation. However, today was the first occasion on which his system was tested against a quality five-man midfield. It might be good enough to beat mid-table sides like Manchester United, but it's not going to be good enough to beat the Arsenal.
Another bizarre thing about Sherwood is that while he has overhauled the team, he's chosen to retain arguably the most catastrophic element of AVB's team: the kamikaze high line.
It was telling that Wenger opted to pick a three diminutive speedsters up top in Gnabry, Walcott and Cazorla. He had probably watched Liverpool's tiny trio of Suarez, Coutinho and Sterling demolish Tottenham a matter of weeks before.
While I'm on it, Tim Sherwood is a spectacularly inarticulate man…
I know I'll be accused of snobbery here, but I don't care. After the match, Sherwood claimed, "We was not not outnumbered in midfield, we wasn't". Seems like he's stuck in his own double-negative spiral.
Gnabry was outstanding…
Starting Fabianski felt like a gamble. Starting Gnabry felt like a declaration of faith. That faith was repaid with a storming display. For an 18 year-old, it's his football intelligence that really takes your breath away.
Amid all the chatter about the Januzaj lad at United, you might forget that other club's are even allowed to have exciting youngsters. Apparently if they don't have even the slightest chance of playing for England, they're not as interesting to our national press. Nevertheless, I can't see many more promising prospects than Gnabry around – and he doesn't dive. While I'm at it: if he played for a club with a midfield as weak as Moyes', he'd probably be starting every week too. As it is, he is in competition with the likes of Cazorla and Ozil for a regular place.
Further reading: Serge Gnabry comes of age as Arsenal see of Spurs
Rosicky…
…deserved that goal. He probably deserves a new deal, too. Arsenal will face competition from the MLS and elsewhere for his services in 2014/15, but I'd be delighted to see him stay with the club. You won't find many 33-year olds who could race away from Danny Rose quite so effectively. He's like Peter Pan. Or maybe Benjamin Button. Maybe eventually he will regress in to being a weird little baby old person. Who knows? But I want to see it happen. At Arsenal.
Further reading: Super Tom Rosicky Shines Against Spurs
Theo Walcott looked impressive as a centre-forward…
His finishing was a little off, but he showed great movement and a willingness to take on the physical elements of the role. On the admittedly limited evidence of the past two games, he's a far better bet for the position than Lukas Podolski.
As for the whole stretcher-based controversy, Spurs want to be careful throwing money at Theo – they've already chucked away £100m in the summer transfer market.
Arsenal saw out the game in relative comfort…
My overall thought watching this match was that gap between the two teams seems to have widened significantly in the first-half of this season. This was the most one-sided derby victory for some time.
The Fourth Round beckons, and I hope we give the FA Cup some real focus this year. It'd be a massive thing to reach the final or, God forbid, win it. The players seemed to flourish away from the weekly pressure of the Premier League, too – this was our best performance in weeks.
Arsenal have nine days rest now before an awkward-looking trip to Aston Villa, and the resumption of Premier League duties.
About a year ago I gave a new format a whirl, running through the season as it looked on the blog. As whirl's go, it was quite nice. A delicious hazelnut whirl as opposed to death by whirlpool. So we're doing it again.
___
Cazorla makes more sense than Sahin | August 1st 2012
The need for Cazorla is clear.  Despite selling both Cesc Fabregas and Samir Nasri last summer, Arsene's didn't buy a direct replacement in the form of an attacking midfielder, choosing instead to rely on Aaron Ramsey and Tomas Rosicky across the course of the season, with mixed results.  Cazorla would fill that gap and add an extra dimension to the side – and, at a reported £16m, be an absolute bargain.
At first glance, the signing of Sahin would be a little odd.  He plays a deeper role than Cazorla, without being a destroyer.  It's an area in which Arsenal are seemingly well-stocked.
For your consideration: Thoughts on Cazorla, RVP & Song | August 11th 2012
There's no doubt in my mind that the Dutchman intends to leave Arsenal this summer. The recent comments of Alex Ferguson convince me that he has probably arrived at some sort of provisional agreement with Manchester United too – they wouldn't risk the embarrassment of going public with the bid if they thought there was a chance RVP would reject them.
I made my peace with Van Persie's probable exit a while ago, but I am a little worried about the reports of Barcelona's interest in Alex Song. Whilst I admit he has flaws, I'm a big fan of the Cameroon midfielder, and unlike with Van Persie I cannot see an obvious replacement within the squad.
RVP to United is painful but unsurprising | August 17th 2012
What makes this divorce particularly painful is the third party: Alex Ferguson's Manchester United.  Over the years, Fergie has tried to snare several Arsenal players – most infamously, Patrick Vieira.  In the past, such moves seemed improbable.  United and Arsenal were simply too close in their rivalry and their status.
Now, for the first time, one of our assets has been prised away to Old Trafford, and it stings.  Arsenal fans will claim Van Persie left for the money.  They'll chuckle at the fact he's ended up at a team that probably wasn't his first choice.  But the uncomfortable truth remains that he's joined a club where he stands a better chance of winning the trophies that have eluded him for so long.
Sunderland 0 – 0 Arsenal: Cazorla could be the signing of the season | August 19th 2012
Arteta looks most likely to inherit the 'Song' role.
In an unfamiliar-looking central midfield trio of Arteta, Diaby, and Cazorla, it was the more senior Spaniard who played the deepest. With Song on the verge of completing his move to Barcelona, it's likely Arteta will continue in that role for most of the season.
Cazorla could be the signing of the season.
I'm not particularly prone to hyperbole, but this guy has everything. Apart from height. And the ability to fly. I mentioned in a previous blog, but his two-footedness is quite extraordinary. Whether passing or shooting, it is genuinely difficult to tell which foot is stronger (for those who want to know, it's his right).
We only had one Song | August 20th 2012
Song's departure also puts a slightly different spin on our summer.  A few weeks ago we had brought in Podolski, Giroud and Cazorla, and still had Van Persie.  Now we've lost the Dutchman and, to most people's surprise, Song.  Earlier in the summer, that trio of signings looked like a considered statement of intent: we were finally loosening the purse strings to improve the squad.  By selling Song and Van Persie, we've actually covered those costs entirely.  Once again, Arsenal head towards the end of the summer in profit.  It's almost as if we planned it like this.
Transfer round-up: Three steps forward, two steps back | September 1st 2012
It's a case of three steps forward, two steps back.  This summer initially looked like one of bold investment.  Now we find ourselves back in profit, and with a squad that's arguably no better than last season's.  I still think we have more than enough quality to finish in the top four, but what's frustrating is that with one or two additions we had the potential to do so much more than that.
Liverpool 0 – 2 Arsenal: The signs are good | September 3rd 2012
Alongside Diaby, Mikel Arteta was immaculate in the holding role. In fact, our central midfield display was so good that the discourse about our failure to replace Alex Song almost evaporated over the course of the ninety minutes. Had we lost this match, with one-time transfer target Nuri Sahin impressing for Liverpool, the fanbase would be up in arms. As it is, Arteta and Diaby bossed it, Sahin was anonymous, Arsenal victorious, and Song forgotten.
Southampton Preview: Today is about more than Olivier Giroud | September 15th 2012
Olivier Giroud has started just two games for Arsenal.  He has had just two noteworthy chances.  And yet already there is talk of him being 'under pressure'.  Football has truly never been quite so hysterical and reactionary.
Arsenal 6 – 1 Southampton: Saints dispatched with Spanish style | 16th September 2012
It was telling that with Arsene giving rests to the likes of Podolski and Gervinho, Cazorla remained on the field. He makes us tick. And yesterday, he made us tiki-taka.
City Preview, Wilshere's return, & Theo thoughts | 22nd September 2012
If a new deal hasn't been finalised by then, surely Walcott will be encouraged to leave early for a knock-down fee of £5m or so.  In the meantime, his situation has seen him fall behind the developing Alex Oxlade-Chamberlain and a rejuvenated Gervinho in the pecking order.  Until some resolution is found regarding his long-term future, I do not expect that to change.
City 1 – 1 Arsenal: A moral victory, and a victory for morale | 24th September 2012
Mertesacker's performance was inch-Perfect
The big German has been unfairly judged throughout his time in England. He looks ungainly, but his intelligence, cool head, and reading of the game are invaluable. Yesterday was probably his best performance in an Arsenal shirt, but it has been coming – his recent form has been superb. Steve Bould and Arsene Wenger were both centre-backs who didn't rely on pace in their time, and I wonder if that's part of why they've embraced the BFG so wholeheartedly.
I'm surprised anyone was surprised by Gervinho's performance
Granted he had scored three goals in two games, but that didn't suddenly make him Thierry Henry. Two of those goals were tap-ins, whilst the other was his first against Southampton – when, frankly, he just decided to put his foot through it. On that day, it flashed in to the net. Yesterday, similarly thoughtless efforts were skewed high and wide. I'm afraid he will always be erratic in front of goal.
Theo should learn from Mikel Arteta | 25th September 2012
When you add it all up, this "big factor" of wanting to play through the middle doesn't really seem to make any sense, does it?  And that's when it becomes exposed for what it is: a cover story.  Another PR spin from 'camp Walcott' so that when he refuses to sign a new deal they can protest that it wasn't about the money.  Perhaps I'm wrong and he will stay, but this looks to me a lot like he's getting his excuses in early.
Arsenal 6 – 1 Coventry: Player-by-player review | 27th September 2012
I'm a fan of Andre Santos. He's clearly a great personality to have around the club, and going forward he is capable of great things. Tonight, however, he looked plain lazy. He wandered around the pitch, sauntering back and generally looking disinterested. On this evidence Kieran Gibbs is not going to come under serious pressure for the left-back spot anytime soon.
Chelsea Thoughts: Familiar failings & Feeble Fire-power | 30th September 2012
Giroud had to score. The defence "it was a tight angle" is not valid when the angle is only tight because of the strikers touch around the goalie. He had a perfectly good opportunity to strike before that, dallied, and paid the price. I make that three clear one-on-ones and a penalty he's missed since joining the club. I'm not writing him off, but I am a little concerned. On which note, I won't pretend to understand why Arsene saw fit to bring off our best finisher, Lukas Podolski, with twenty minutes to play.
Norwich 1 – 0 Arsenal: No fluency, No Excuses, No Points | 21st October 2012
The performance was anomalous in its awfulness.  Even in the dreary 0-0 with Sunderland, we created a couple of chances that one could describe as decent.  Arsene's relatively relaxed demeanour throughout suggested a man who had decided relatively early on that this was just 'one of those days'.  I hope, for all our sakes, that he's right.
Arsenal 0 – 2 Schalke: More of the same
| 25th October 2012
Arsenal desperately need to sign a striker. I'm not sure this requires much expansion. In a world in which Demba Ba is available for just £7m, there is no excuse for Arsene not bringing in a reliable front man in January.
AGM: Angst, Grumbles & Moaning | 25th October 2012
If the AGM had been a month or so ago, it might have been a very self-satisfied affair.  The new signings looked inspired, we were defensively solid, and being talked about as genuine contenders.  That AGM would have been misleading: it would have overlooked some of the crucial issues that it was essential to raise yesterday.  But by the same token, a couple of bad results shouldn't cast an ugly light across the entire club.  Arsenal don't need saving: they just need to get a bit better.  Starting tomorrow.
Arsenal 1 – 0 QPR: Accentuating the positives | 29th October 2012
Jack Wilshere was every bit as good as I expected him to be. I'd love to sit here and say, "I'd forgotten how good he was", or "I did't expect him to be quite so good quite so quickly".  I'd be lying.  I did.
Reading 5 – 7 Arsenal: The game that nearly broke me | October 31st 2012
The first half was abject, then apocalyptic, then embarrassing. The second half was acceptable, then alluring, then astounding. Extra-time was just plain bonkers.
Man Utd 2 – 1 Arsenal: Why Fergie is like Captain Hook | November 5th 2012
I'm not worried about shirt-swapping or referee decisions or anything else: I'm worried about this team.  The decline in recent weeks has been alarming.  Leaving aside that anomalous League Cup game, the first team have lost three of the last four.  On Tuesday night we face an intimidating trip to Schalke, and we're only a couple of weeks away from a massive North London Derby.
We need to stop the rot.  At the moment we have slim trophy hopes and bleating fans.  We're dangerously close to turning in to Liverpool.
Arsenal 3 – 3 Fulham: Giroud's excellence clouded by defensive incompetence | November 10th 2012
The "Steve Bould has fixed everything" narrative was a myth created by people who wanted to use it as stick to beat Arsene Wenger with.  And as for the 'zonal marking' on the corner from which Berbatov scored, I have to confess I simply can't see the logic in leaving opposition players to make untracked, unmarked runs and attack the ball.
Also, I am conscious this may be heresy, but I'm not sure about the validity of keeping Santi Cazorla in the central three.  He drops in to wide areas to look for space, which means that the two left behind occasionally look a little isolated.
Arsenal 5 – 2 Spurs: History repeats itself | November 18th 2012
So there we have it: 5-2 again.  Same result; different sensation.  Because of the sending off, I feel like this game won't have the same seismic impact on either of these teams' seasons as the previous 5-2.  Last time, Spurs' collapse came from a greater position of dominance, and was more complete in its cataclysmic hilarity.  This time, they have mitigating circumstances.  They can blame Adebayor's stupidity rather than their own inadequacy.  I expect their wheels to wobble, rather than come off entirely.
Arsenal 2 – 0 Montpellier: Quiet, then Quality, then Qualified | November 22nd 2012
Whatever you think of Arsene, you can't knock his record in the early stages of European competition.  Arsenal have now qualified for the knockout phase for the 13th time in his reign – I believe it's now twelve years on the trot.  With Chelsea and City both set to go out, it shows you just what a feat that is.
Arsenal 0 – 2 Swansea: Arsene's Swan-song | December 1st 2012
Arsenal fans are often berated by the media for their supposed impatience.  The truth is that at any club other than Arsenal, the pressure on Arsene Wenger would be approaching unbearable.
From 15 league games – almost half a season – we have won only five.  We've lost four; as many as 17th place Sunderland.  We're 15 points behind the league leaders Manchester United.  Distressingly, we're now as close to United as we are to rock-bottom QPR.  We're just one league place ahead of Liverpool; a club whose mid-table mediocrity we are in serious danger of emulating.
Q&A with Philippe Auclair: "I hope Thierry doesn't return this year" | December 6th 2012
Philippe: "The final chapter was written, and beautifully, last year. There's no way that a Thierry in his 36th year can do better than what he did eleven months ago, especially when the club has more attacking options than was the case in 2011-12. He would in no case represent a 'solution'; whereas last year, given the van Persie-dependance, he could make a difference at times."
Arsenal 2 – 0 WBA: Divers are already retrospectively punished | December 9th 2012
Arsenal are now just two points off fourth spot…
…whilst Chelsea's mini blip means we're only five points off third.  We're in the fortunate position of being in direct competition with teams which are as flawed as our own.  If we can get it together, Champions League qualification is still very much within our grasp.
Bradford 1 – 1 Arsenal (3 – 2 pens): Something must be done. Nothing will be. | December 13th 2012
Both board and manager are wedded to our existing philosophy. They're knotted together, each guilty of leading us in this purgatorial fourth-place pursuit.
I'd love to be proved wrong about that, just as I'd love to be proved wrong about my growing suspicion that the decline of Arsene's Arsenal is terminal. I've waited for so long to see him lift a trophy again, and now I don't believe I ever will. I want so badly for this club to top up my drink, and make it seem half-full again rather than half-empty. I want something to change, and I'm scared it won't. Stagnation, it's worth remembering, leads to rot.
Why I'm not convinced Olivier Giroud is the right striker for Arsenal | December 18th 2012
I'm not saying he's a bad player.  I think he's a very good one.  I'm just not sure he's the right one.  For years, people talked about Arsenal needing a target man as a Plan B.  Finally, they have one.  Giroud looks twice the player of Chamakh at the moment, and will doubtless become an important part of the squad.  There are times when we will need him.  But his style is opposed to that of the team.  He doesn't fit Plan A.
Arsenal 7 – 3 Newcastle: Why I'm struggling to enjoy Theo's excellence | December 30th
Whilst I should have been lost in ecstasy over Walcott's outstanding display, I was instead consumed with the thought that Theo Walcott might finally be about to explode in to the player he's long threatened to be, just six months before he walks out of the club on a Bosman free.
As for Demba Ba, if we don't try to sign him for £7m then it is tantamount to mismanagement.  I made a point of watching him carefully from behind the goal, and his power, movement and finishing is outstanding.  Walcott and Giroud's goals were heartening, but we're still in need of more attacking options, and with Premier League experience and an affordable price tag, Ba fits the bill.
Southampton 1 – 1 Arsenal: Call for the Cavalry | January 1st 2013
The fact that we have Arteta shouldn't prevent us chasing a defensive midfielder.  The fact that we have Cazorla shouldn't rule out the pursuit of a schemer.  And the fact that Theo Walcott has had a handful of decent games through the middle certainly shouldn't prohibit the signing of a striker.  Quality and competition provides flexibility.  This was an inflexible Arsenal performance.  Signings are the antidote.
Transfer update: Don't hurry back, Chamakh | January 5th 2013
Chamakh's departure, as well as Gervinho's time at the African Cup of Nations, leaves us very light upfront.  I considered a striker a priority before the window – now it's nothing less than a necessity.  Worryingly, our options seem to be decreasing all the time: Demba Ba has joined Chelsea, Huntelaar has re-signed at Schalke, and Fernando Llorente is in talks about a Bosman move to Juve.  I've read the stories about David Villa, but I can't see that one happening.  The obvious signings have all disappeared from the table.  That said, Arsene has never really been one for the obvious.  Let's hope he's got a trick up his sleeve.
Transfer update: Arsene's inertia could cost Arsenal dear | January 11th 2013
I am merely struggling to understand how an unconvincing draw with Swansea has done so much to erase Arsene's belief that this team needs reinforcement.  Our rivals will doubtless continue to improve around us, so we ought to push on and do the same.  If we don't, there is a very real risk that we will fail to achieve our basic goal for the season: Champions League qualification.If our squad is "complete", then why are Arsenal sixth?
Arsenal 0 – 2 Man City: Do your job, Arsene | January 13th 2013
All the talk before this game was of the exorbitant prices fans were asked to pay to watch the match.  It felt particularly expensive for Arsenal fans when Laurent Koscielny's red card effectively ended the contest after 10 minutes.
If Arsenal and Arsene continue to neglect their responsibility to improve the squad, Jack will go the way of Cesc.  And Van Persie, Nasri, Clichy and Song.  Jack's enthusiasm and love for the club was entirely evident against City, but no player is immune from disillusionment.  Years of stagnation and decline will wear that affinity thin.  We've seen it before.  Let's not let history repeat itself.
Arsenal 1 – 0 Swansea: Jack Wilshere, Perfect 10 | January 17th 2013
In the last two matches, Wilshere's development has accelerated dramatically.
This isn't the Wilshere we remember. This one's better.
This Jack Wilshere is armoured with months of gym work and a fierce desire to make up for lost time. He is physically and mentally stronger for the ordeal he has suffered, and it shows.
Chelsea Preview: Dawn of the Theo-cracy | January 19th 2013
The truth is that Walcott is the lucky beneficiary of a perfect storm of circumstance.  Arsenal could not afford the PR disaster of losing another one of their perceived stars.  The club is also under more pressure than ever to show ambition in their expenditure.  Every time Walcott produced on the pitch, the likelihood of Arsenal caving to his demands increased significantly.
Chelsea 2 – 1 Arsenal: Another early implosion scuppers Gunners | January 20th 2013
I don't subscribe to the belief that failing to make the top four could ever be a 'good thing'. We need to be there, and I still believe we can. However, a couple of additions could make all the difference. The one upside to our poor run is that it comes at a time when it's possible to do something about it.
I know it's cold outside, Arsene, but it's time to open the window.
Brighton 2 – 3 Arsenal: That's more like it, Olivier | January 26th 2013
Let's not kid ourselves: however well Giroud played, he's no Van Persie. However, in the last few days he's made a convincing case for a prolonged run of games at centre-forward. I still feel we would benefit from a signing in this area, but if someone does arrive they'll have to oust a Frenchman in form.
Video: One Day More – Deadline Day remix ft. Arsene Wenger | January 30th 2013
Deadline Day Thoughts: He's Nacho left-back anymore, Malaga | February 1st 2013
Arsene's relationship with the market seems to have been irrevocably soured by the sages over the likes of Fabregas, Nasri and Van Persie. Meantime many of his own signings have floundered. In the last few years, transfers have been more hurtful than helpful.
He's wrong to be dismissive of transfers. People rightly laugh at cheque-book managers, but good recruitment is a skill. There are deficiencies in Arsenal's squad and a club with our resources ought to be able to correct them. Monreal is a great start.
Sunderland 0 – 1 Arsenal: He's Bac | February 11th 2013
The idea that Jenkinson is ready to displace Sagna is nonsense. I for one hope that we keep the Frenchman by giving him the long-term deal he craves. If he leaves this summer, as appears increasingly likely, we'll need to bring in someone with the requisite experience to fill that spot.
On Andre Santos: I can't help but feel that the infamous shirt swap incident with Robin van Persie was a huge catalyst towards his departure. On that day, he lost the fans, and it's almost impossible to come back from that – just ask Emmanuel Eboue or Nicklas Bendtner. Every mistake is highlighted; every indiscretion scrutinised. I'm not sure that Santos has been more error-prone than many of our other defenders, but the tide turned against him on that November day.
Arsenal 0 – 1 Blackburn: The middle of the end | February 17th 2013
It's moot, anyway. Arsene Wenger is no closer to leaving Arsenal today than he was on Friday. Negative results do not edge him closer to the door; only time and the running down of his contract do that. His current deal runs till 2014, and I find it impossible to foresee him leaving before that date. He may even be handed a renewal.
The extrication of Arsene Wenger from Arsenal will be a long and painful process, for both sides. I'd argue it's a process that is already underway. It began when Cesc Fabregas and Samir Nasri abandoned Arsene's project, and will end the day whatever contract he is bound to is allowed to expire.
Ivan Gazidis will not push him. Arsene will not jump. In the meantime, here we are: stuck in the middle of the end.
Arsenal 1 – 3 Bayern: Mullered | February 20th 2013
I didn't join the chorus of boos at full-time: Arsenal lost fair and square to a better side.  I hoped for more, but it would have been madness to expect  it.  However, the result has compounded the pain of the FA Cup defeat.  Within the space of a few days, the focus of our season has narrowed dramatically: it's suddenly looking like fourth or bust.
Tottenham 2 – 1 Arsenal: The defending is indefensible | March 3rd 2013
Arsenal's defensive line looked like it'd been drawn on a spirograph. Playing a high line against the likes of Bale and Lennon is always a risk, but doing so when your defence is bereft of any kind of organisation borders on masochism.
It's not quite over. Their fixture list gets a lot trickier over the next six weeks, and we also have the possible boon of a Chelsea implosion to look forward to. Arsenal can still make the top four, but if we do it'll be in spite of our own self-destructive tendencies.
Bayern 0 – 2 Arsenal: A template for the rest of the season | March 14th 2013
Contained within this performance was the DNA of an Arsenal team capable of hauling its way back in to the Champions League. Arsene Wenger must play John Hammond, extract it and bring it back to life before our very eyes, starting this weekend at Swansea.
WBA 1 – 2 Arsenal: Rosicky the run-in expert to the rescue | April 6th 2013
Tomas Rosicky is a bit like Wigan. Or blossom. Come spring, he comes to life.
Since losing the Derby at Spurs, Arsenal have won four games, scoring ten goals and conceding just two. We have the momentum, and we have Tomas Rosicky.
The omens are good. We just need to keep it going.
Arsenal 3 – 1 Norwich: Arsenal set for sprint finish | April 14th 2013
The cannon is rolling in to position. Time to blow away the opposition.
Arsenal 0 – 0 Everton: Giroud misfires in stalemate | April 16th 2013
Giroud is popular among the fans, but that oughtn't disguise our need for someone superior. His defenders will point to the 17 goals he has scored, and with some justification, but I'm reminded of Emmanuel Adebayor in 2007/08. The Togolese totem-pole racked up 30 goals, but was rebuffed in most quarters with cries of, "Well how many should he have scored given the chances he's missed?".
Arsenal Transfer Requirements 2013/14 | April 23rd 2013
If you've played Football Manager or FIFA 13, you might think you know how the transfer window works.You'd be wrong.
Arsenal 1 – 1 Man United: Disappointed Love | April 29th 2013
After the game, Arsene Wenger described Arsenal fans' hostility towards Robin van Persie as "disappointed love". It strikes me that this explains much of the animosity and in-fighting among our own supporters. We all desperately want the same things, and the strength of that desire spills over in to frustration and anger.
QPR 0 – 1 Arsenal: No point playing the blame game | May 6th 2013
I enjoy the race for fourth, because it provides the illusion of genuine competition. As a supporter, you crave contesting something until the last second of the season. The thrills and spills of that kind of topsy-turvy battle are what make being a fan such an enthralling experience. However, it's not a real trophy. It's a surrogate.
Arsenal 4 – 1 Wigan: Our Great Escape is still on | May 15th 2013
There was no 'Great Escape' for Wigan, but there may yet be one for Arsenal.Arsenal now know that a win at Newcastle on Sunday will confirm our top four spot. Considering where we were languishing after losing to Spurs a couple of months back, it's a hell of a turnaround.
I think we're all agreed that qualifying for the Champions League will never replace the ecstasy of winning a trophy. However, it would enable us to put a conciliatory gloss on what's otherwise been a painful season.
What's more, it would allow us to laugh at Tottenham. Again.
Newcastle 0 – 1 Arsenal: Time to shoot for the moon | May 20th 2013
The feat of making the top four for 16 consecutive years is impressive, but hearing Arsene trot that record out with increasing frequency makes me uncomfortable. On the weekend of Alex Ferguson's retirement, it was telling that among the 13 Premier League titles, five FA Cups and two Champions Leagues, his 22 consecutive top four finishes passed without mention.
If fourth place is any kind of prize, it's a runners-up medal. For a club of our size, it's oughtn't be an aspiration but a conciliatory accessory to failure.
It's simple, really. Don't aim for fourth; aim for first, hit fourth if you fail.
Shoot for the moon. Even if you miss, you'll land among the Champions League's assembled stars.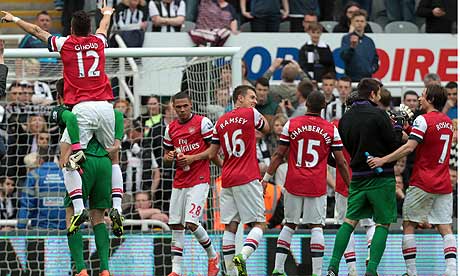 —
So that was that. Looking back over it, the joy of the final day really pales in comparison to some of the earlier angst.
Still, it's far better that way round – makes the summer far more bearable.
Arsenal 0 – 1 Blackburn
Match Report | Highlights | Arsene's reaction 
In this game, Arsenal played with such soporific slovenliness that it was as if they were trying to lull us in to such a stupour that the inevitable sucker punch wouldn't sting quite so much.
To be fair, it worked. When Colin Kazim-Richards ran untracked through the midfield to fire home after Wojciech Szczesny's feeble parry, I wasn't surprised. There was a grim inevitability about the whole scene.
When Jack Wilshere fell in a crumpled heap at the final whistle, I felt for him. But any angst on my part was tempered by familiarity. His anguish was fresh, but mine has been dulled by duplication: I've seen it before. I've seen Cesc Fabregas similarly felled, and Robin van Persie too; great players, folding under the strain of swimming against a tide of mediocrity.
After Bradford and Blackburn, Arsenal now face a cup clash with Bayern Munich. One hardly imagines the Germans are quaking in their boots. A bad result at the Emirates on Tuesday night could all but guarantee us an eighth consecutive campaign without a trophy.
Things could be worse, I know. Whenever he comes under scrutiny, Arsene Wenger is quick to point out that Arsenal are not in a relegation battle. However, I'm afraid that just doesn't cut it.
It's about expectation. Reading are very much in a relegation battle, but that doesn't mean Brian McDermott is under-performing. Equally, Arsenal might be well clear of 18th place, but they are falling below the standards expected of the club.
Those who criticise the manager are often characterized as pessimists, but it strikes me that there is an optimistic slant to their discontent. They see the potential of the club to be in a far better position than it currently is.
Replacing the manager doesn't provide an absolute guarantee of positive change. However, an ever-increasing wealth of evidence suggests that keeping the manager absolutely guarantees more of the same.
I'm often asked when I'll finally join the "Wenger Out!" brigade. Well, the answer is that I almost certainly never will. I've no time for brigades, or any other tactical military formations for that matter. Similarly, bandwagons have always struck me as an outmoded form of transport. I'll make up my own mind on where I stand. I refuse to buy in to the dichotomy that has been imposed on the Arsenal supporter base, splitting us in to "AKB"s and "Doomers". The reality, and my own position, is far more complex.
I will never chant for the removal of a man who has given me some of my greatest memories. However, I do believe there are certain fundamental issues with the management of the team that will only be resolved by a change of manager. Whether this summer would be the optimum time to do that, I don't know: it depends on the availability of alternatives.
It's moot, anyway. Arsene Wenger is no closer to leaving Arsenal today than he was on Friday. Negative results do not edge him closer to the door; only time and the running down of his contract do that. His current deal runs till 2014, and I find it impossible to foresee him leaving before that date. He may even be handed a renewal.
The extrication of Arsene Wenger from Arsenal will be a long and painful process, for both sides. I'd argue it's a process that is already underway. It began when Cesc Fabregas and Samir Nasri abandoned Arsene's project, and will end the day whatever contract he is bound to is allowed to expire.
Ivan Gazidis will not push him. Arsene will not jump. In the meantime, here we are: stuck in the middle of the end.