FC Porto 2 – 1 Arsenal (Fabianski og 11, Campbell 18, Falcao 51)
Highlights | Arsene's reaction
There was, I suppose, a fair amount of pressure on Lukasz Fabianski last night. After all, it was the knockout stage of the Champions League: Europe's premiere club competition.
Not only that, but he has spent much of the season being hyped as the superior alternative to an out-of-sorts Manuel Almunia. It's a truism that with every game Almunia played, Fabianski got better. A mistake against Stoke in the FA Cup did little to dislodge the conviction of many: Almunia's time was up, and as soon as Fabianski got a chance in the side, the number one shirt was his for the taking.
Fabianski must have felt the same, having been frustrated that mistakes from the goal's current incumbent never led to a first-team opportunity for him. When a finger injury ruled Almunia out of an appearance in Porto, Fabianski will have been desperate to impress.
Arsene Wenger didn't shy away from adding weight to the expectation on the Pole, stating in the build-up:
"He has exceptional talent, he's a very intelligent goalkeeper and he will have learned. Don't forget that one of the greatest goalkeepers ever in England, David Seaman, made mistakes at 22 or 23."
By the time the game kicked off, the stakes had been built so high for Fabianski that his performance was always going to be one of extremes. Unfortunately, as we now know, those extremes were not at the good end of the scale.
There are men who are exceptional athletes, with extraordinary technical ability. To get this far in the English game, Fabianski must be counted among them. However, there is a tier above these types, whose personnel is dictated principally by the force of their personality. These are the the players who would have responded to such pressurised situation with the performance of their lives. On last night's evidence, Fabianski will never inhabit this group.
On the precipice of first-team pre-eminence, he stumbled and fell. It is now a long way back. At many other clubs, he wouldn't be forgiven. Ben Foster has made less high profile mistakes at United and finds himself third in the pecking order and close to the exit door. As it is, Wenger's commendable faith and misguided lenience will probably see Fabianski back in goal as soon as Saturday's game against Sunderland.
The mistakes, when they came, were horrendous. First Varela's tame cross from the right-wing was palmed pathetically in to his own net. Then, in the second half, Sol Campbell was shepherding a ball back towards his own goal, hoping Fabianski would come and deal with it emphatically. When he didn't, Campbell (possibly inadvertently) prodded the ball back to the keeper. Fabianski picked it up, and the ref blew for an indirect free-kick inside the penalty area. According to the rules, he can only blow if he is sure Campbell's pass was deliberate. According to common sense, Fabianski cannot take that risk. Deal with the ball – get it out of play.  These are the basics.
What transpired afterwards was arguably even more calamitous. Instead of holding on to the ball to slow the Porto momentum, Fabianski handed the ball back, allowing them to take a quick free-kick which Falcao tapped in – his celebration comprised a mixture of joy at scoring and amazement at having been gifted the opportunity.
It was, as Cesc called it, schoolboy. There is no defence for… well, no defence. However, in the interest of balance I will demonstrate to you that whilst allowing the play to continue, the referee very clearly blocked off Sol Campbell and prevented him from cutting the ball out: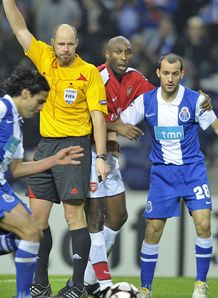 Throw in the fact that he also denied Tomas Rosicky the clearest of penalties and Martin Hansson becomes a deeply unlikeable man.
Campbell was understandably furious on what was a bitter-sweet night for him. He had headed an equaliser to rack up goals in consecutive Champions League games – the last being on that fateful night in Paris four years ago.
It was a classic Arsenal goal – and when I say that I mean the Arsenal of Graham, not Wenger. A Fabregas corner was flicked on by Thomas Vermaelen, Rosicky nodded it back across goal, and Campbell powered it in to the top corner. I have to say I'm really enjoying the big man's comeback. If I had to give either him or Silvestre a new deal in the summer, I'd certainly let Sol's renaissance continue a little longer.
Campbell's header could prove a vital goal in the return leg: a 2-1 defeat is significantly better than losing 1-0. Our away goal means that a 1-0 win at the Emirates will take us through, though the chances of us keeping a clean sheet have to be slim to none. What's frustrating is that last night could have been so much more productive – for about an hour in the middle of the game we played rather well, and only idiotic mistakes account for us trailing the Portuguese side. The saving grace is that last night could prove more costly to Fabianski than it does to his team-mates.