And don't we love it.
Man U shat all over us yesterday. Apparently they had something like 23 attempts on goal. We had approximately 6, and 5 of those were penalties.
But we won.
They had a whole host of brilliant chances, hitting the post and bar, with Roy Keane having a shot cleared off the line by Patrick Vieira.
But we won.
We won. I still don't really believe it.
We came into the game with a quite mental 4-5-1 formation, with Dennis Bergkamp upfront on his own, Jose Reyes inventing a new position for himself, and seemingly no right-midfielder. Nice.
Bergkamp had no chance of holding the ball up, when he recieved so little support from Reyes/Pires/Fabregas. It was a terrible, terrible decision. Arsene was so afraid of his losing that for the first time in a good 8 years, he sold out on his own footballing philosophy. He resorted to the "anti-football" he so despises. Hell, we even turned to kicking the shit out of them this time, not the other way around. I'm not sure what possessed Arsene to believe that the FA Cup Final was a good time to experiment with out formation, but then he is "Le Boss".
Anyhow, this tactical ineptitude resulted in us getting thrashed. Except they couldn't score. It was hilarious.
Not even Ashley Cole's apparent confusion about just where the byline was, resulting in long balls being consistently knocked over his head;
Not even Lauren's clown-like attempts to deal with the exuberant Ronaldo;
Not even substitute Freddie Ljungberg's genuine confusion over where he was supposed to be playing, having to go over and ask Pat Rice;
Not even the late late sending off of Jose Reyes;
None of this was enough to give Man United the lead. And a huge degree of that is down to Jens Lehmann: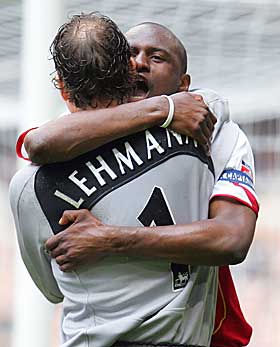 Since he came back into the side a few months ago, he was been consistently superb. Yesterday, he was nothing short of astonishing.
A sequence of extraordinary saves came to a tremendous climax when he kept out Paul Scholes' penalty in the decisive shoot-out. Just perfect.
Arsenal's takers, meanwhile, were an ocean of tranquillity and calm. Lauren, Ljungberg, Van Persie, Cole, and Vieira. All five dispatched their penalties with real aplomb, and meant that that final sprawling effort from Jens was enough.
Arsenal had won the FA Cup.
It wasn't pretty, but it was perfect.
If footballing karma does exist, then this was it in action.
The scenes of Ferdinand and Ronaldo in tears at the end of the game will stay with me forever. Joyful, joyful memories.
There's more to tell about the bizarre events of my afternoon in Cardiff. But that can wait for another day. For now let's just savour the immortal words of some announcer guy:
The FA Cup Winners of 2005…
ARSENAL!!!